Main content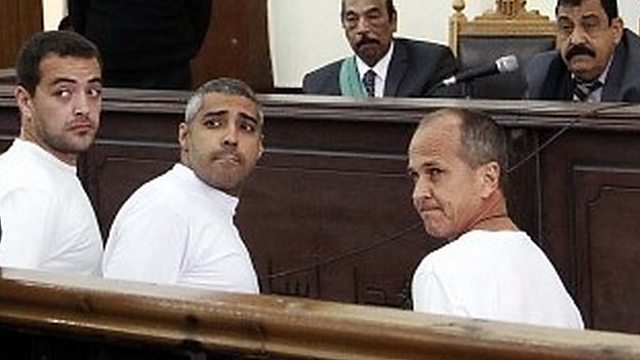 'I do believe the outcome will be politicised'
An Egyptian court is expected to give the verdict in the retrial of Al-Jazeera journalists Mohamed Fahmy and Baher Mohamed.
"I do believe the outcome will be politicised," said Mr Fahmy, the Al-Jazeera journalist who was arrested in December 2013 on terrorism-related charges.
The Cairo bureau chief claimed "factors other than evidence are going to play at the end of this circus of a retrial."
The rift between Egypt and Qatar, the network's owner, was worse than ever, said Mr Fahmy.
"It's no secret that Qatar is a supporter of the Muslim Brotherhood [banned as a terrorist group in Egypt] and that has affected our situation here.
"I hope the judge understands the international outcry and support we have will only increase and make Egypt look bad and even worse if he puts us back in prison."
Duration:
More clips from 29/07/2015