Main content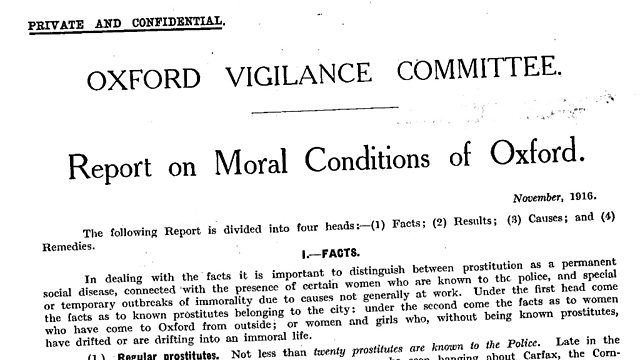 Carfax, Oxford: The Vigilance Committee
The self-appointed Vigilance Committee to maintain order in the city
As Oxford streets fell to darkness due to blackouts, a wave of moral panic gripped the city as the abnormal conditions of war gave rise to "immoral behaviour".
In November 1916, a self-appointed group calling themselves the "Oxford Vigilance Committee" authored a report that catalogued in detail much of this behaviour, speculated on its causes and suggested "remedies".
Self-appointed "women patrols", working in pairs and wearing armbands, went out on the streets to record what was going on, and to try and move people on – but they had no official status or powers of arrest.
Historian Malcolm Graham recently uncovered the document, marked 'Private and Confidential', which captures the fears and social dislocation of a city.
With much of its male population away fighting, and with a new male population of soldiers, new recruits and convalescents; nothing was to be the same again.
Location: Carfax, Oxford OX1 1ET
Reading by Sue Rae
Image: Oxford Vigilance Committee Report front page, courtesy of Oxfordshire County Council – Oxfordshire History Centre
Duration:
More clips from World War One At Home