Main content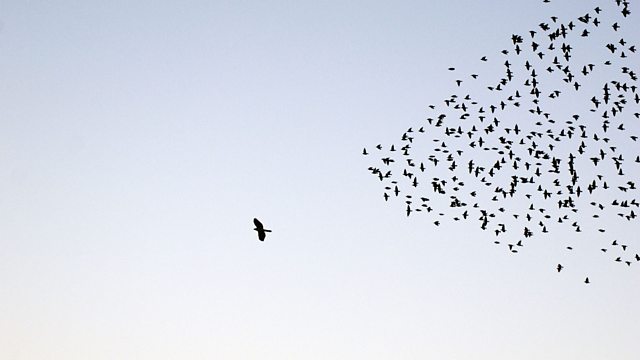 "We are, despite some appearances to the contrary, unanchored, spiritually free." The Reverend Lucy Winkett - 14/07/15
In the garden of our church in Piccadilly, central London, over the next two weeks is an art installation by the Syrian artist Issam Kourbaj. Issam has created, inside a UNHCR tent, a birds eye view of a refugee camp in Southern Syria. When you walk in, it's as if you are seeing the camp from the air, like we do on the news: tiny tents far below you, made out of, in this instance, waste materials, medicine packaging and discarded books.
Hidden in this artistic lament for people who are forcibly uprooted, is a universal reflection evoked for me by the ephemeral materials he has chosen to express how fragile life is, however fixed it seems for a time.
One of the main foundations of Christian teaching is that the life we live now, however structured it may seem, however real it is for us, is more of a staging post, pointing towards an even greater reality. A time management exercise asks a room full of businesspeople to look at their weekly diary and take out all the things that they can get away with not doing. Their week seems emptier. The second phase is to think hard and get rid of things that are possible to do without but require negotiation, leaving only the absolutely unmoveable necessary things they have to do. The third phase is to look at this nearly empty week and then deliberately cross out all that remains and see what that does to our sense of ourselves. Our instinct is often to make routines in order to parcel up the day and the night, in order to corral in some way the acreage of time and space in which we exist that if we stopped to think about it would overwhelm us. Our emotional and practical obligations that keep us accountable, both confine and comfort us. A Christian perspective will remind us that all our buildings, relationships, patterns of association and habitual journeys, while seeming fixed now, are, at the same time, always penultimate. We are, despite some appearances to the contrary, unanchored, spiritually free.
Jesus used poetic images in his stories such as grains of wheat falling into the earth. In these parables, a profound truth is expressed about what it's like to be human: it's easy to mistake permanence for impermanence, and life events, or sometimes our own decisions to let go, send us into free fall. And following Christ's teaching, the words of the 16th century mystic Teresa of Avila challenges our fear of this: you do not fall out of the arms of God, she said, only into them.
Duration:
More clips from Thought for the Day