Main content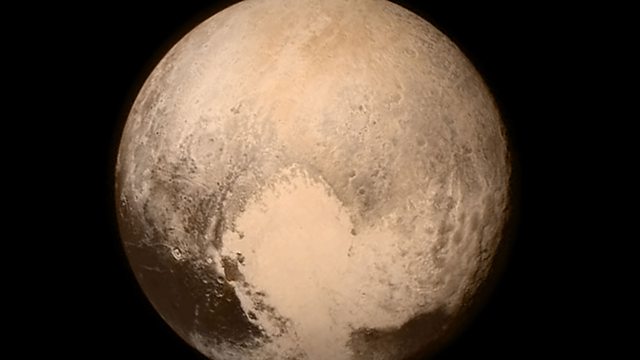 Pluto Special
Nasa chief Charlie Bolden hails success of New Horizons, the speedometer in your head, cycle paths and roads as solar power generators?
The climax this week of Nasa's New Horizon's mission at Pluto has been the great science event of the year. Until the space probe's spectacular images started to arrive at mission control in Baltimore, Pluto was little more than a meagre collection of pixels in even the most powerful telescopes. Only in the last few days have we seen that it is a complicated world with mountains of ice 3000 metres high and one which remains geologically active. A profound surprise. The Science Hour discusses the revelations and delves into Pluto's history including its discovery in the 1930s and its demotion from planet to dwarf planet in 2006.
Presenter Gareth Mitchell also brings you the speedometer that we all have in our heads, discovered by Nobel winning neuroscientists in Norway. The researchers discovered it by getting rats to walk and run in miniature Flintstone-style cars.
There is also a trackside report from the Netherlands at a bicycle path which doubles up as a large solar panel. The test track is testing the idea of using cycle lanes and even roads as solar energy generating surfaces in years to come?
Plus the new feathered dinosaur from China which lived 125 million years ago. The new species was a close relative of the famous Velociraptor, suggesting the next Jurassic Park franchise movie needs to add some fancy plumage to its greatest villains.
(Photo: Pluto. Credit: Nasa)