Main content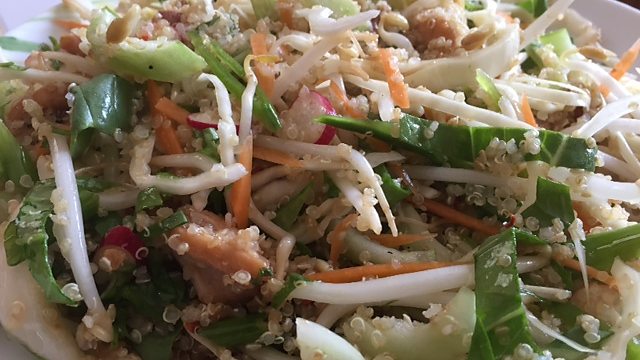 Food Friday - Oriental quinoa salad with sticky Chicken
Ben Jackson and Janine Finch cook up a summer salad!
Oriental quinoa salad with sticky Chicken:
This Salad is a great way of introducing different grains into your children's diet or even your own! Its crunchy and refreshing and great for a hot day ( like today )when you don't want to have the oven going. You can either Pan fry like I did or even marinate the chicken with the sauces and then pop onto the BBQ.
Ingredients:
(Serves 2 approximately)
Chicken:
- 1 Chicken thigh for 2 people sliced into strips
- 1-2 tbsp the oil of your choice ( I used coconut oil )
- 1-2 cloves of Garlic depending on size
- Thumbnail amount of grated fresh Ginger
- 1/4 Red chilli (without seeds) chopped finely
- Tbsp light soy sauce
- Tbsp Oyster sauce
- Good pinch of caster sugar
- good squeeze of lime juice
Salad:
- A good handful of Quinoa cooked
- Handful of sugar snap peas thinly sliced lengthways
- 2 handfuls of bean sprouts
- 1 carrot thinly sliced ( julienned)
- 1/4 of side of White cabbage thinly sliced
- 3 spring onions chopped
- 3-4 leaves of Pak choi sliced diagonally
- 6 radishes round or breakfast sliced into thin rounds
- few leaves of fresh coriander chopped
- May need an extra spritz of lime to taste
Method:
* Cook off Quinoa to packet instructions. Then rinse in a sieve under cold water and drain.
* Slice chicken and fry off in a frying pan on a medium heat. Add Garlic, ginger and chilli and fry off for a couple of minutes.
* Once Chicken is starting to brown, add your soy stir and cook for a minute or two.
* Add your oyster sauce, stir and cook for another minute.
* Sprinkle in your sugar, spritz of lime and let it cook on a low heat for another 3-4 minutes or until nice and brown and sticky.
* Whilst your chicken is cooking away, prepare your salad.
* Add your cooked quinoa to the salad, add your Chicken, chopped coriander and then toss all together.
* Taste to see if it needs extra lime or not. Then serve.
Duration:
More clips from Ben Jackson