Main content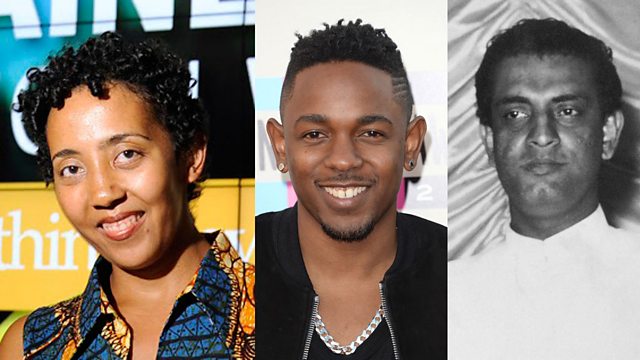 Caine Prize Winner, Kendrick Lamar, Pather Panchali
Zambian writer Namwali Serpell wins Caine Prize, rapper Kendrick Lamar on his career and Satyajit Ray's Indian cinema masterpiece Pather Panchali is 60 years old.
The Zambian writer Namwali Serpell has just been announced as the 2015 winner of The Caine Prize for African Writing. She talks about her story, The Sack. British writer Matt Haig on writing as an act of faith and how reading cured him of suicidal depression. With the film Jaws now 40 years old, we revisit a great BBC archive interview with director Steven Spielberg filming at sea.
Taylor Swift's favourite rapper Kendrick Lamar talks about how an A grade in a school poetry exercise inspired his career. Antonio Pappano, music director of London's Royal Opera House explores what happens to the body when we sing. Israeli author Ayelet Gundar-Goshen sends a seasonal postcard from her hometown Tel Aviv. What are they reading on the beach there? And an appreciation of Satyajit Ray's masterpiece of Indian cinema Pather Panchali, 60 years old this year.
(Photo: Namwali Serpell (c) The Caine Prize for African Writing, Kendrick Lamar (c) Jason Merritt/Getty Images, Satyajit Ray (c) AFP/Getty Images)
Music and featured items
Caine Prize Winner

Duration: 06:32

Matt Haig

Duration: 07:21

Jaws at 40

Duration: 07:12

Kendrick Lamar

Duration: 06:17

Classical Voices

Duration: 06:10

Israeli Postcard

Duration: 04:53

Pather Panchali

Duration: 07:29

Israeli Book List

Judas by Amos Oz

Borderlife by Dorit Rabinyan

Short story collection : Tel Aviv Noir edited by Etgar Keret 

The collection of poetry is  Roee Hasan's Haklavim Shenvahu Beyaldutenu Hayu Hasumei Peh