Main content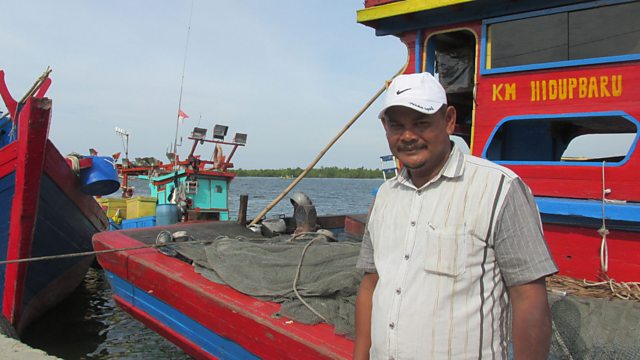 Fisherman who saved Drowning Migrants
Indonesian fisherman who rescued 100s of drowning migrants, Australian blood donor who's saved over 2 million babies, British writer who became a cartoon character in Japan.
In the first three months of this year, the United Nations estimate that 25,000 Rohingya people have fled persecution in Myanmar and Bangladesh by boat. Members of the minority Muslim group find themselves crammed on to rickety vessels by human traffickers. They face appalling conditions at sea - sometimes left floating for weeks without food before being rescued. Fisherman Muhammad Ibrahim saw the situation at first hand. On the night of 15th May, Muhammad and his crew had just set sail from Aceh in the north of the country when they came across a sinking boat crammed with around 800 refugees.
In his native Australia, James Harrison is known as 'The Man With the Golden Arm'. That's because his blood has helped to save the lives of millions of babies. James has a rare property in his blood which can be used to fight a dangerous condition that affects unborn babies. And he's donated it hundreds of times.
Michael Booth is used to being an outsider in another country. He's spent 10 years living as an ex-pat in Denmark. But in 2009, he and his family set off for a three month stay in Japan to discover whether a Westerner could truly begin to understand the culture, myths and desires behind Japanese food. The book about his experience has now been turned in to a TV cartoon.
Last month the Georgian capital Tiblisi was hit by severe flooding. After heavy rain, the river burst its banks. The waters swept into the city's zoo, killing three people as well as scores of animals. But some of the biggest beasts escaped from their enclosures into the city streets. You may have seen pictures of a hippo in the middle of the road or a bear climbing up a building to escape the floods. It was all a nightmare for Zurab Gurielidze, director of the zoo.
The theremin was the first mass produced electronic instrument. Created by the Russian Leon Theremin in the 1920s, it looks like a box with an antenna on one side and a metal loop on the other, so players appear to be waving their hands above the box in thin air. They are in fact interacting with the magnetic field that creates the sound. Carolina Eyck is one of the world's leading theremin players. She's had music written for her and is a pioneer of this relatively new instrument, taking it into the concert hall. Our reporter Nicky Barranger went to meet Carolina in her studio in the German city of Leipzig.