Main content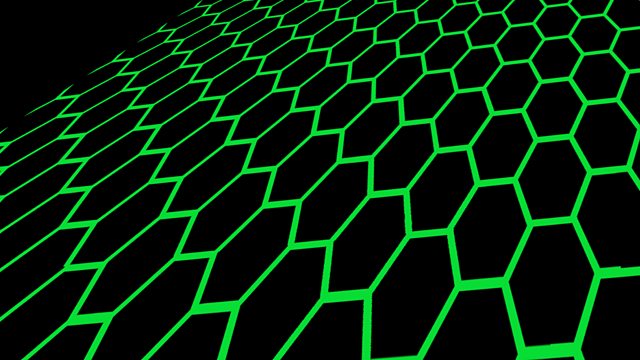 Adventures in 2D: Graphene and Beyond
Five leading researchers, including Nobel laureate Konstantin Novoselov, discuss the future of graphene and other '2D' materials at Graphene Week, held at Manchester University.
Top graphene researchers, including the Nobel laureate who first isolated pure graphene, talk to Bridget Kendall about the future of not just this 'wonder-material' but also a whole host of other 2-dimensional crystals now available. How close are we to a cheap production of quality graphene on an industrial scale? Can the EU's Graphene Flagship, a research and industrial consortium which includes about 150 partners in over 20 countries, quickly move graphene products from the lab to the consumer? And should we worry about the safety of 2D materials? Recorded at Graphene Week held at the University of Manchester, with Sir Konstantin Novoselov, Sarah Haigh, Jari Kinaret, Toby Heys and Jonathan Coleman.
Photo: An artist's illustration depicting graphene: by Shan Pillay
Chapters
The Magic of Graphene

Duration: 13:33

Adventures in 2 Dimensions

Duration: 07:21

Graphene vs. Silicon

Duration: 04:45

Why the Future may be Flexible

Duration: 10:17

Konstantin Novoselov

Sir Konstantin Sergeevich Novoselov is a Russian-British physicist and Langworthy Professor in the School of Physics and Astronomy at the University of Manchester. His work on graphene with Andre Geim, earned them the Nobel Prize in Physics in 2010. In 2004 Novoselov, Geim, and colleagues succeeded in isolating graphene, a one-atom-thick sheet of carbon found in a hexagonal lattice. Graphene is an extremely good conductor of electricity and may surpass silicon to form the next generation of computer chips. Graphene is also almost totally transparent, so it could be an ideal material for touch screens and solar cells.

Sarah Haigh

Sarah Haigh is a Lecturer in Materials Characterisation at the University of Manchester, UK. Her research interests centre on improving our understanding of nanomaterials properties using transmission electron microscope imaging and analysis techniques. Recent examples of work from her group include imaging of new 2D heterostructure materials, three dimensional elemental imaging of nanoparticles and 'in situ' elemental analysis where samples are analysed in liquids or gases at elevated temperature. She was elected to join the Armourers and Brasiers Company as a freeman in 2009 and now sits on their Material Science Committee. She is Honorary treasurer and secretary of the Institute of Physics EMAG group and on the advisory board for the EPSRC's SuperSTEM laboratory.

Jari Kinaret

Jari Kinaret is the Director of the Graphene Flagship and Professor and Head of Condensed Matter Theory Division at Department of Applied Physics, Chalmers University in Sweden. Born in Finland, he has been active in Gothenburg since 1995, most recently as a professor and director for Chalmers' Area of Advance Nanoscience and Nanotechnology. His research focuses on electrical and mechanical phenomena on the nanoscale, lately in systems that comprise carbon nanotubes or graphene. He has published 55 scientific articles and has 6 patents.

Toby Heys

Toby Heys has worked as a Digital Technologies Research Fellow at the Manchester Institute for Research and Innovation in Art and Design (MIRIAD) since 2012.  He is an active external member and researcher within Hexagram, an international network dedicated to research-creation in media arts, design, technology and digital culture, which it investigates through the following three axes: Senses, Embodiment and Movement;  Materiality; and Ubiquity. Heys also works with Steve Goodman as AUDINT, a research cell investigating how ultrasonic, sonic and infrasonic frequencies used to demarcate territory in the soundscape, producing sound/video performances, installations, and books for venues such as Art in General (New York), Herford Museum of Contemporary Art (Germany), Academy of Art (Berlin) and TATE Britain (London) .

Jonathan Coleman

Jonathan Coleman is the Professor of Chemical Physics in Trinity College Dublin. The focus of his research is liquid exfoliation of layered compounds. Exfoliation of these materials gives 2D nanosheets which can easily be processed into thin films or composites from applications from energy to mechanics. He has published approximately 180 papers in international journals including Nature and Science. He was recently listed by Thomson Reuters among the world's top 100 materials scientists of the last decade and was names as the Science Foundation Ireland researcher of the Year in 2011.