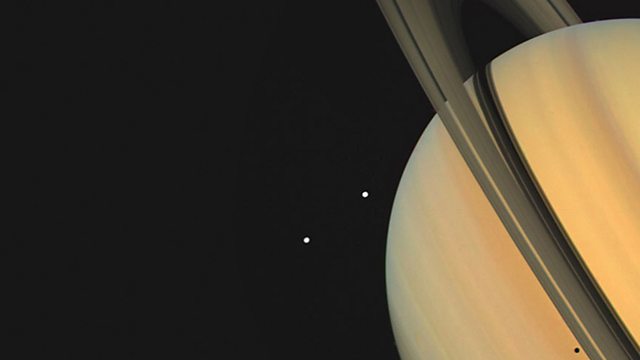 Sounds of Space: The Solar System
The previously silent world of outer space is getting noisier. In this audio tour of the Solar System, Dr Lucie Green listens in to the Sounds of Space. You may have heard the famous 'singing comet' – the soundscape created using measurements taken by the Rosetta spacecraft. Now, we bring you more sounds that have come from our exploration of the cosmos.
Some have been recorded by microphones on-board interplanetary spacecraft. Others have been sonified from space data, from lightning on Jupiter to vibrations inside the Sun. All of them reveal tantalising secrets that have inspired scientists, artists and musicians to help us understand the universe beyond.
Joining Lucie Green on this sonic journey through space are: Prof Tim O'Brien, associate director of Jodrell Bank Observatory, Honor Harger, executive director of the ArtScience museum in Singapore, Dr Andrew Pontzen from the Cosmology Research Group, University College London.
(Photo: Saturn By Voyager. Credit: Nasa)
Last on
Tue 30 Jun 2015
15:32

GMT
Music
Radioqualia – Comma Data Return
Sigur Ros – Jodrell Bank Mix 1
Semiconductor – Black Rain
Radioqualia – Data Space Return
Louis Dandrel – Les Chants des Étoiles – 04) Jupiter
Caroline Devine – 5 Minute Oscillations of the Sun
Louis Dandrel – Les Chants des Étoiles – 07) Soleil
NASA Voyager recordings - Symphonies of the Planets - 1) Jupiter
Louis Dandrel – Les Chants des Étoiles – 06) Andromède
Radioqualia – SKR Live mix 15.11.08
INSTRUMENT: One Antarctic Night
NASA Voyager recordings - Symphonies of the Planets - 6) Saturn
Louis Dandrel – Les Chants des Étoiles – 12) Arietis
Louis Dandrel – Les Chants des Étoiles – 6) Andromède
Space Sounds
Atlas V launch (NASA archive)
Quindar 1 (NASA archive)
Sun one mode (NASA SOHO/ A. Kosovichev, Stanford Solar Observatories Group)
Sun all modes (NASA SOHO/ A. Kosovichev, Stanford Solar Observatories Group)
Mercury Messenger probe – magnetic field recording (NASA)
Earth bow shock (ESA Cluster)
Earth chorus  (NASA/ Craig Kletzing, University of Iowa)
Earth aurora (NASA/ Donald Gurnett, University of Iowa)
Comet 67P/Churyumov–Gerasimenko (ESA Rosetta/ Manuel Sennft)

Jupiter upstream ion acoustic waves (NASA Voyager 1/ Donald Gurnett, University of Iowa)
Earth whistlers (NASA Voyager 1/ Donald Gurnett, University of Iowa)

Jupiter whistlers (NASA Voyager 1/ Donald Gurnett, University of Iowa)

Europa  (NASA Galileo/ Donald Gurnett, University of Iowa)
Saturn's rings (NASA/ESA/ASI Cassini-Huygens/ Donald Gurnett, University of Iowa)
Saturn radio emission & Saturn radio emission 2 (NASA/ESA/ASI Cassini-Huygens/ Donald Gurnett, University of Iowa)
Enceladus (NASA/ESA/ASI Cassini-Huygens/ Donald Gurnett, University of Iowa)
Titan: Huygens microphone (ESA Huygens