Main content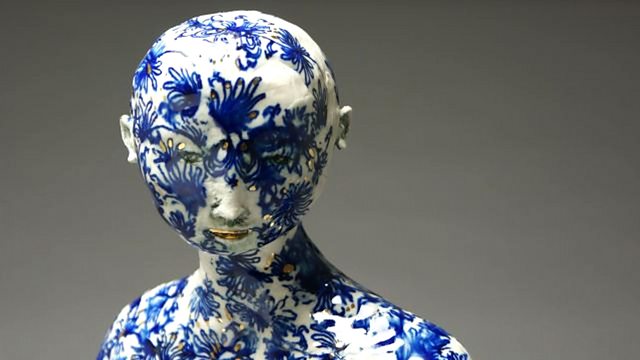 Clay
The joys and perils of clay. With Chinese-American writer Huan Hsu, Irish ceramic artist Claire Curneen and British geologist Tim Jones.
It is one of Earth's oldest building materials, a natural seal against water, useful for paper making, medicine and lots of other things. Bridget Kendall and guests discuss clay. Why it is so useful, why so many cultures treasure it but why it can also be a source of serious ill health. Chinese-American writer Huan Hsu explains the importance of porcelain in China, Irish ceramic artist Claire Curneen introduces us to the powerful visual language of clay, and British geologist Tim Jones studies a particular type of clay which causes a debilitating illness affecting millions of people in the developing world.
(Photo: Guardian by Claire Curneen. Credit: Dewi Tannatt Lloyd)
Chapters
Huan Hsu

Searching for priceless Chinese porcelain

Duration: 12:13

Claire Curneen

Making clay speak

Duration: 08:41

60 Second Idea:

Turning the car horn into a brake pedal

Duration: 04:17

Tim Jones

Podoconiosis: a neglected scourge

Duration: 12:48

Huan Hsu

Huan Hsu's new book, The Porcelain Thief, documents his travels through China in search of his family's lost porcelain collection.  In 1938, when the Japanese arrived in Huan Hsu's great-great-grandfather Liu's hometown Xingang, Liu was forced to bury his priceless antique pots. Seven decades on Huan embarks on a quest to find them.  Huan's award-winning essays and fiction have appeared in Slate, The Literary Review, Seattle Weekly and Washington City Paper. He teaches creative writing at Amsterdam University College.

Claire Curneen

Claire Curneen is an Irish ceramic artist and a Senior Lecturer at Cardiff Metropolitan University. Curneen's work can be seen in over 20 public collections, including the Victoria & Albert Museum, London; National Museums and Galleries of Wales, Cardiff; Taipei Ceramics Museum, Taiwan and the Crafts Council, London.

And you can see some of Claire's work in the gallery on the right-hand side of this page.

Tim Jones

Dr. Tim Jones is Senior Lecturer in Earth Sciences, Cardiff University with a special interest in particulate pollution and human health. Specific particles of interest are geologically-sourced such as, volcanic ash, desert storm dust, and quarry dust. One focus of his research is podoconiosis, a serious form of clay-induced elephantiasis, thought to affect about 4 million people in high-altitude tropical regions. 

Sixty Second Idea to Change the World

Huan Hsu contends that the biggest health risk in China today is probably crossing the street because Chinese drivers tend to be reckless: despite having a fraction of the automobiles as America, China suffers many times the number of the traffic fatalities. Rather than yield to pedestrians or cyclists, the Chinese simply make liberal use of their horns and expect people to give way, leading to a joke that the car horn is the Chinese brake pedal. So Huan proposes that we actually make the brake pedal the car horn. Now, drivers can't honk unless they slow down (or must slow down to honk) which solves both problems.