Main content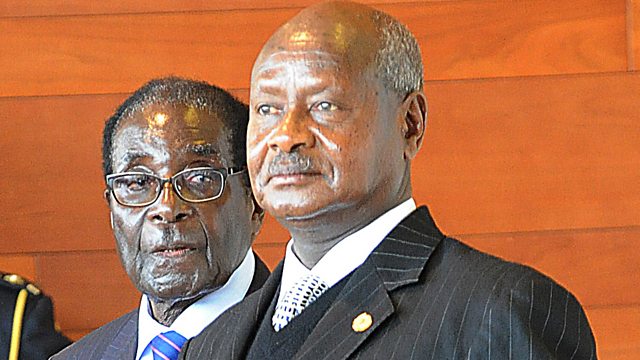 Presidential Staying Power
Africa's long-serving leaders, football revolutionary Diego Maradona, the Picasso of Iran, and what to watch this Ramadan.
In a list of the longest serving political leaders around the world, of the top thirty, at least a third are African. This is even though the majority of African countries limit presidential terms to two runs. The President of Burundi is controversially standing for election for a third term and in Rwanda a campaign is underway for the constitution there to be amended to allow President Paul Kagame to stand again. Why are African leaders such stayers? David Amanor is joined by BBC Africa colleagues to discuss.
Maradona: Made by the Hand of God
He has been called the Sex Pistol of international football. To many he is a revolutionary, a friend to Hugo Chavez and Fidel Castro. This week it has been reported that Diego Maradona intends to run for the presidency of Fifa. Marcela Mora y Araujo explores the many sides of Maradona and asks why he still captures the imagination of the world.
Bahman Mohasses: The Persian Picasso
Bahman Mohasses was one of the pioneers of modern art in Iran. He was a sculptor, painter, theatre director and translator. After the revolution, his work was considered too un-Islamic to be seen in public. BBC Persian's Negin Shiraghaei and Morad Montazami, curator of Middle Eastern Art at Tate Modern provide a guide to the man known as the Persian Picasso.
What to Watch this Ramadan
It is the holy month of Ramadan - a month of prayer and fasting and for some also accompanied by a lot of television. TV soaps and dramas are commissioned for the season and often bring in the highest ratings. BBC journalist Doaa Soliman is something of a connoisseur of Ramadan TV. Not only has she watched a lot for pleasure, but in her current role with BBC Monitoring, she is also tasked with keeping a professional eye on the current selection. This is Doaa's guide to what to watch this Ramadan.
Life and Death Exams
For millions of students around the world, there is one exam which can decide the future course of their lives. Countries including China, Afghanistan and Uzbekistan have a national university entrance exam in which students push themselves to the limit - or are pushed by their parents - to get the best chance of success. Zhuang Chen of BBC Chinese and Bismillah Momand of BBC Afghan share painful memories, and Pahlavon Sodiq describes the problem of fraud in the Uzbek system.
And Fifi picks her favourite stories from the world of the web.
(Photo: President Mugabe of Zimbabwe (left) and President Yoweri Museveni of Uganda. Credit: Getty Images