Main content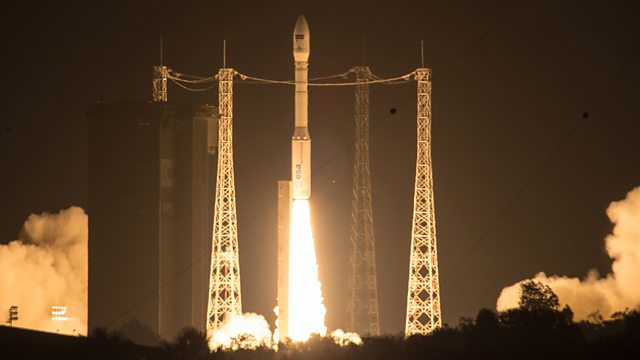 The Tech Behind the European Spacecraft Sentinel-2A
Sentinel-2A, Digital Gold: The Untold Story of Bitcoin, Banqer, Transforming line drawing instantly into 3D models.
The lead spacecraft in Europe's new multi-billion-euro Earth observation programme has gone into orbit. The satellite - Sentinel-2A - part of Europe's Copernicus programme, launched from Europe's Spaceport in French Guiana. The mission will collect data and images of the earth, and provide key sources of information for governments and planners in the coming years, including giving international agriculture and food agencies advance notice of poor harvests and the potential for famine. Click talks to Josef Aschbacher, the Head of Copernicus Space Office about the launch.
Digital Gold: The Untold Story of Bitcoin
Ross Ulbricht, creator of Silk Road, was sentenced to life in prison recently. Drawing on documents and emails concerning Ross Ulbricht's trial, Nathaniel Popper reveals the influence of Silk Road and the development of Bitcoin as an outgrowth of the powerful cultural currents that gained strength after the world's financial crisis. Popper joins Click to discuss his book, Digital Gold: The Untold Story of Bitcoin.
Banqer
Banqer is an online educational App that is being used by teachers in New Zealand to teach their students financial literacy. It does this by turning the classroom into a virtual economy. Simon Morton reports on Banqer in action at a school in Wellington, New Zealand.
How Can You Transform Line Drawing Instantly into 3D Models?
Teenage technology wiz Daniil Frants and artist Ivan Govorkov have joined forces for a site-specific installation that weaves together line, shape, composition and construction through a process based investigation of traditional 2D mark-making and modern 3D modelling. Click reports on the work in the making.
(Photo: Vega VV05, carrying Sentinel-2A, lifted off from Europe's Spaceport in Kourou, French Guiana, 2015. © ESA–M. Pedoussaut)
Last on
Broadcasts