Main content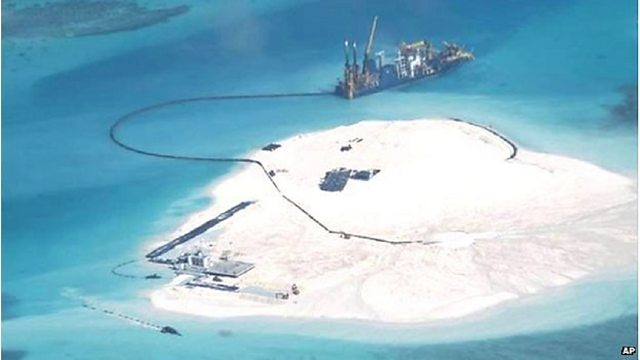 Made by China
Lifting a lid on the world: Rupert Wingfield Hayes in the South China Sea, Tim Whewell in Moldova, Neal Razzell in Estonia and Roger Hearing in Gaza. Presenter: Pascale Harter.
Why is China building artificial islands on coral reefs in the South China sea, a maritime area that the Philippines and Vietnam lay claim to as well? Is it really to help fishermen, as some say, or for military and strategic reasons? After all you don't build a runway capable of letting fighter jets land if all you want to do is help passing fishing boats. And Tim Whewell in Moldova meets billionaire Ilan Shor who is accused of being behind the transfer, or heist, as some call it, of a billion dollars out of three Moldovan banks. That's equivalent to half the annual government revenue in what is Europe's poorest country.
Neal Razzell in Estonia reports on worries about just who the Russian minority there is loyal to - there are signs that they see Russian president Vladimir Putin as their leader and defender, rather than their own, Estonian government. And Roger Hearing meets the man who runs the best-known ice-cream shop in Gaza, selling home-made Italian-style gelato. Amidst the grim reminders of past wars, Roger thinks it's the best ice-cream he's ever tasted.
Presenter: Pascale Harter
Producer: Arlene Gregorius
Photo of Johnson Reef in the South China Sea appearing to show Chinese building activity released by the Philippine government, copyright AP.