Main content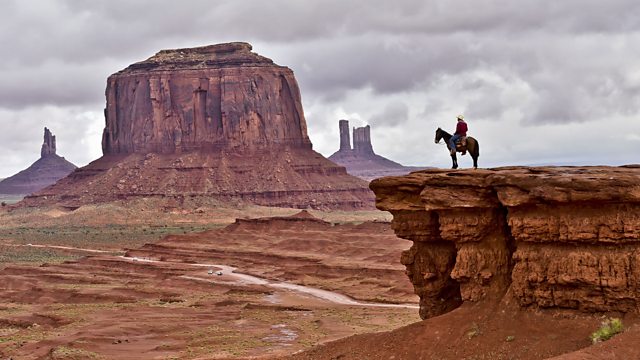 In Search of The Real Searchers
The real and reel history of the classic American Western The Searchers.
Sixty years ago John Ford travelled to Monument Valley to make his greatest Western, The Searchers. Based on Alan LeMay's novel, it is still a powerful tale of race, violence and redemption as Ethan Edwards (John Wayne) searches for his niece Debbie, abducted by a Comanche raiding party on the Texas frontier. But, as Mark Burman discovers, The Searchers is a gateway to the real and powerful story of the forging of Texas statehood and the rise and fall of the Comanche empire. This is an epic journey, with real searchers, real loss and an epic struggle for survival at its core. It begins in Monument Valley and reaches across the vast expanses of Texas and Oklahoma to explore both the making of a classic film and the bloody history of the true West.
Mark Burman hears from Pippa Scott, one of the last surviving cast members of John Ford's film, gets a guided tour through Monument Valley from a local Navajo expert to search for the last relics of the location shoot, encounters the last resting place of a true American hero and real searcher, and hears from Comanches who grew up with their communal stories shot down on screen by John Wayne.
(Photo: A Navajo man on a horse poses for tourists in front of the Merrick Butte in Monument Valley Navajo Tribal Park, Utah. Credit: Mladen Antonov/AFP/Getty Images)