Main content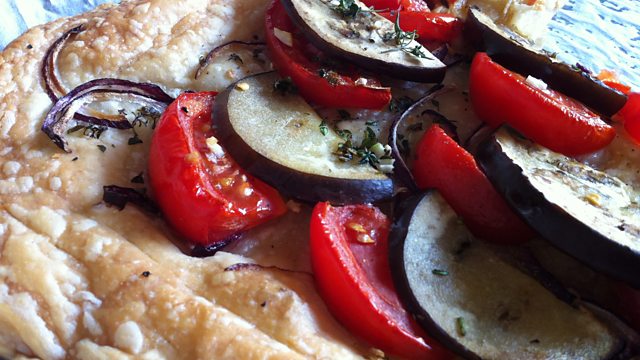 Food Friday - Summer Tart
Summer Tart with Ben Jackson and Janine Finch
Summer Tart:
This recipe is ideal if you want to go for a Picnic this weekend or even to take round to a friends for some "Al fresco" dining. It is super easy to do and will cost you less to nothing.
It is also a very versatile recipe in the fact you could change the vegetables to something such as Peppers or courgettes. Or as Ben suggested, crumble some feta on top.
Ingredients:
(One Block of 500g Puff Pastry will make 2 Tarts)
*One Tart
- Some Plain flour for sprinkling
- Half block of 5oog Puff Pastry
- One medium sized Red Onion sliced
- 2-3 large tomatoes sliced into wedges
- A Few thin slices of Aubergine
- 2 cloves of Garlic finely chopped
- A selection of fresh herbs, I used Thyme, Lemon Thyme, Oregano, Rosemary
- Sea salt and Cracked Black pepper to season
- Drizzle of Chilli oil over the top if you wish or You could use Rapeseed or Olive oil
Method:
* Preheat Oven to 200-220c
* Roll out your Pastry on a floured surface with a Rolling pin to just under a Pound coin's thickness.
* Score slightly with a knife a couple of cm's in around the Edge of the Pastry to allow to puff up at the sides.
* Prick with a fork a good few times so that the Pastry won't rise to high.
* Place your Red onion slices on, then your Tomatoes, Season with salt and pepper and pop in the Oven for 10 minutes.
* After 10 minutes, place your Aubergine slices in between the slices of tomato, add your Garlic, herbs and drizzle your oil over and place back into the Oven for a further 10 minutes or when the tart is Golden brown with no "Soggy bottom"
Duration:
More clips from Ben Jackson