Main content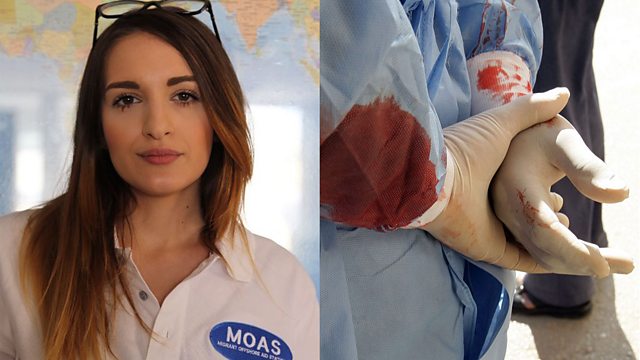 Emergency workers: Maria Luisa Catrambone and 'Gardenia'
"Sometimes we have just one minute to save this person" - treating casualties amidst the bombs of Syria's conflict and rescuing migrants from drowning in the Mediterranean.
When Maria Luisa Catrambone helps to treat children who have serious burns and bloody injuries she says you need to control your facial expressions carefully and not show any sign of shock, so you don't scare them. This is something the teenager has learnt to do when going on rescue missions with the Migrant Offshore Aid Station - saving men, women and children from drowning in the Mediterranean Sea, where thousands of migrants have lost their lives trying to reach Europe in the past year. Maria feels this work is her "calling" and worked hard to convince her mum and dad, who set up MOAS, to let her join them.
Our second guest, who we've called 'Gardenia' for security reasons, works with the Syrian Civil Defence, a group of unarmed volunteers who rescue and treat victims of bomb blasts and sniper attacks. Gardenia has worked in a field hospital in Syria's southern city of Deraa for the past few years. She says if someone's lost a leg you have to reassure them "it's ok" to lose a limb, even though she knows it's not ok. Gardenia only lets herself get emotional about what she sees when she gets home "because you cannot cry in front of their eyes". Even before the conflict in Syria Gardenia knew she wanted to help save lives, so when she saw people dying in front of her she knew she had to help.
Maria Luisa (lhs) credit: Migrant Offshore Aid Station
Medic with blood stained hands credit: ANWAR AMRO / AFP / Getty Images
Last on
Clips

Broadcasts