Main content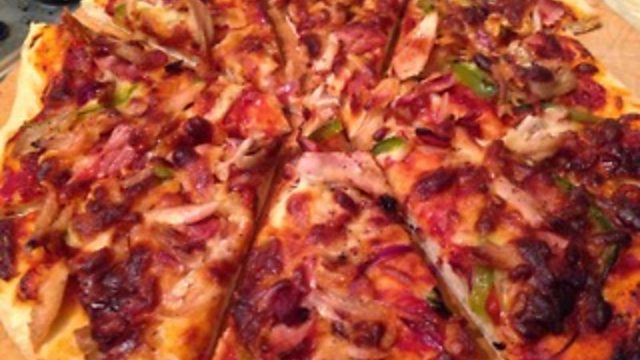 Food Friday - Roast BBQ Chicken Pizza
Ben Jackson and Janine Finch cook up pizza.
Roast BBQ Chicken Pizza:
The bank holiday is coming up and the weather might not be that great for a BBQ outside yet, but why not bring that Flavour inside and Make Pizza's as a Family together. You don't have to go with My Filling, you can keep it just with tomato and Cheese or even add Ham, Mushrooms,Sweetcorn, Whatever you have in and whichever is your favourite topping!
Ingredients:
(Makes 2 large pizza's) :
Pizza Dough:
- 500g Plain flour
- Good Pinch of Salt
- A drizzle of Rapeseed Oil or Extra virgin Olive Oil
- 1 Sachet of fast action dried yeast
- 350ml of warm water added a bit at a time
Topping:
- Roughly 1/2 Tin of Chopped Tomatoes (400g tin)
- 1 heaped Tbsp Tomato Puree
- A few Herbs such as Oregano, Thyme, Rosemary etc chopped
- BBQ Sauce
- Leftover Roast Chicken
- Bag of Grated Mozzarella (250g)
- 1 Sliced Green Pepper
- 2 rashers Chopped cooked Bacon
- 1 Red Onion sliced
Method:
* Get a Large mixing bowl and add all dry ingredients into your bowl. Pop in a drizzle of your Oil and then start to add in your warm water bit by bit.
* With a Wooden Spoon, use the Handle to mix, not the spoon end as this is much easier, trust me!
* Start to mix your Dough together, you'll feel it starting to Gel. Keep adding your water until you have a nice dough texture. Too wet, you need to add a little dusting of flour.
* On a floured work surface, just bring the dough together with your hands, kneading only slightly.
* Leave the dough in the bowl, cover with a warm, damp tea towel and place in a warm place. I put mine in the Airing cupboard. Leave for about 30-45 mins to rise.
* Bash together with a fork in a bowl or in a Food Processor your Tomato Puree, Tomatoes and herbs.
* Preheat oven to 200c
* Once the Dough is ready, Sprinkle some flour onto a work surface and shape the dough out flat using your fingers as thin as you can. You can put onto a tray first if easier.
* Add the Tomato paste allowing to leave an inch all around the Pizza. Add on top the bbq sauce, not too wet though.
* Pop on a little cheese, then veg, meat and cheese again. Pop in the oven for 15-20 minutes or until pizza is done.
Duration:
More clips from Ben Jackson