Main content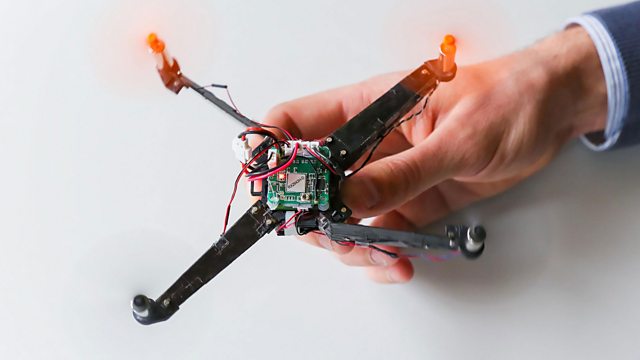 Self-Folding Drones
Self-deploying drones, Singularity, Geek Heresy, House of Clicks
One of the highlights of ICRA (International Conference on Robotics and Automation) is the self-deploying foldable drones. The use of robots to find victims after natural disasters is fast becoming commonplace where robots are sent into areas too dangerous for rescue workers. Issues around safety, control and autonomy continue to dog the fledgling industry of UAVs. But another important aspect is how to make flying robots easily transportable and quick to deploy. Click talks to professor Dario Floreano.
Albert Serra's Singularity
Singularity is the notion that there will come a time, if it has not already happened, when the computers will be smart enough to ensure their own future – without man's involvement. Click talks to the curator, Chus Martinez and film-maker, Albert Serra about his new 12 hour film that riffs on the future world of singularity.
Kentaro Toyama's Geek Heresy
After working on machine vision technologies at Microsoft, the computer scientist, Kentaro Toyama, moved to Bangalore in 2004 to help lead the company's new research centre. He launched myriad projects that sought to use computers and internet connectivity to improve education and reduce poverty. But in some schools, computers made things worse. Toyama joins Click to explain the story of his Geek Heresy.
House of Clicks
Architects used data from a Swedish property website, drawing on two million visitors, 200 million clicks, to help design a new home called the House of Clicks - with a little artistic license based on classic Swedish design principles. Click talks to the architects, Bolle Tham and Martin Videgård.
(Photo: The foldable quadrotor is small enough to fit in a hand © LIS, EPFL, NCCR Robotics)
Last on
Broadcasts