Main content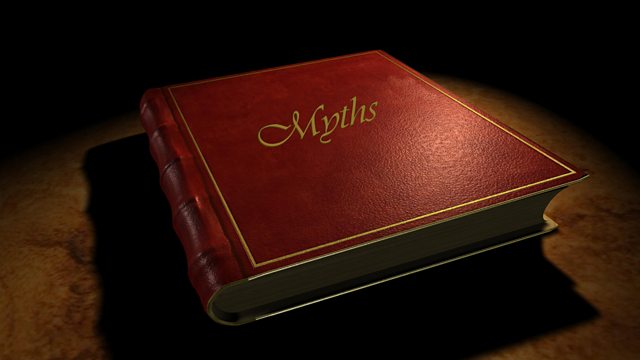 Myth
Why myth and storytelling is important and what it tells us about ourselves.
Why myth, storytelling and fairy tales are important, what they tell us about ourselves and our communities and what happens when they turn bad. With Jack Zipes, Emeritus Professor of German, Angie Hobbs, Professor of the Public Understanding of Philosophy and entomologist, ( insect expert ) May Berenbaum.
Photo: a large storybook of myths (BBC)
Chapters
Jack Zipes

First English translation of original Brothers Grimm stories

Duration: 09:25

Angie Hobbs

The negative side of myth

Duration: 08:26

60 Second Idea

May Berenbaum says no to grass: we should discourage manicured lawns to help pollinators

Duration: 03:50

May Berenbaum

Legends and insects

Duration: 13:15

Jack Zipes

Author, scholar, teacher, translator and activist Jack Zipes is one of the world's leading expert on fairy tales and has  transformed research on them by exploring their  linguistic roots and socializing  function. 'Fairy tales serve a meaningful social function not just for compensation but for revelation:  the worlds projected by the best of our fairy tales reveal the gaps between truth and falsehood in our immediate society."    
A retired University of Minnesota professor of German, Professor Zipes  has recently translated into English for first time the original stories of The Brothers Grimm: The Original Folk and Fairy Tales of the Brothers Grimm and he explores the place of myth and fable in our modern world.

Angie Hobbs

Angie Hobbs is Professor of the Public Understanding of Philosophy at the University of Sheffield, Her chief interests are in ancient philosophy and literature, ethics (both theoretical and applied) and political theory.  She addresses contemporary challenges such as the ethics of war, the ethics of money, how best to promote inter-faith and faith-secular dialogue and the notion of fairness.  She is interested in how myth is interpreted, how it can help explain and explore some of our darkest subconscious thoughts and why Plato had many positives contributions to make on the subject.

May Berenbaum

May Berenbaum, has been on the faculty of the Department of Entomology at the University of Illinois since 1980, serving as head since 1992 and as Swanlund Chair of Entomology since 1996. Devoted to teaching and fostering scientific literacy through formal and informal education, she has authored numerous magazine articles and six books about insects for the general public.  Berenbaum received the 2009 Public Understanding of Science and Technology Award from the American Association for the Advancement of Science. It was announced that she would have her first new species (Xestoblatta berenbaumae Evangelista , Kaplan, & Ware 2015) named after her publicly in November 2014. In that same year, President Barack Obama awarded May the National Medal of Science.  May is interested in how myths have built up around insects and how much truth there is in some of the storytelling. Her book, The Earwigs Tail,  is a 'modern bestiary of multi legged legends'

Sixty Second Idea to Change the World

May Berenbaum says no to grass.  We should mow lawns less to help pollinators.