Main content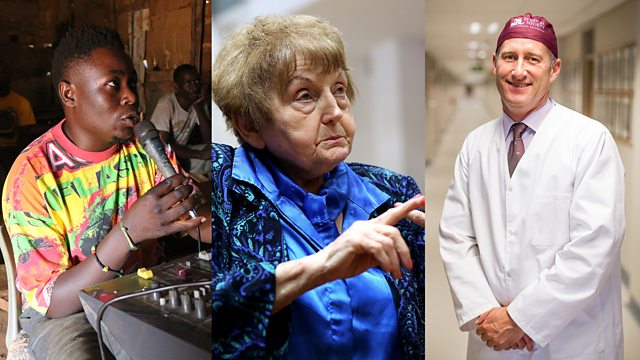 Video Jockey, Holocaust Survivor, Penis Transplant
VJ Emmie on giving Hollywood films a Ugandan twist, Eva Kor, Auschwitz survivor who's forgiven the Nazis, Andre van der Merwe, surgeon who performed world's first penis transplant
Mita Rana is a Nepalese clinical psychologist and trauma counsellor. Since the earthquakes in Nepal she has been looking after survivors - as well as dealing with the grief of losing her own sister who died in the disaster.
Plus, the South African surgeon who performed the world's first successful penis transplant. Professor Andre van der Merwe led a team of surgeons in a complex nine hour operation to attach a donor organ onto a 21-year -old man. The patient's own penis had been damaged following a circumcision that was performed as part of a traditional rite of passage ceremony.
Eighty-one-year-old Holocaust survivor Eva Kor gave evidence in April 2015 at the trial of Oskar Gröning - a book keeper from the Nazi concentration camp at Auschwitz, accused of being an accessory to 300,000 murders. Eva, and her twin sister were subjected to sinister medical experiments in that camp, and her parents and two older sisters died in the gas chambers. Eva talks about why she has, controversially, decided to forgive the Nazis.
If you go to a cinema in Uganda to watch a Hollywood blockbuster, the chances are you will experience the film with a different kind of soundtrack. Sitting in the corner with a microphone is the video jockey - the VJ - who translates the dialogue into the local language - and adds a little something of his own. Emmie Batte, known as VJ Emmie, is one of thousands of VJs who perform across Uganda.
Film clips featured in the interview:
The Terminator (1984) directed by James Cameron and produced by John Daly, Derek Gibson and Gale Anne Hurd.
Taken (2008) directed by Pierre Morel and produced by Didier Hoarau
Forrest Gump (1994) directed by Robert Zemeckis and produced by Wendy Finerman, Charles Newirth, Steve Starkey and Steve Tisch.
(Photo: Emmie Batte, Eva Kor, Professor Andre van der Merwe. Credit: DJ Emie; Getty Images; Stellenbosch University)
Last on
Broadcasts