Main content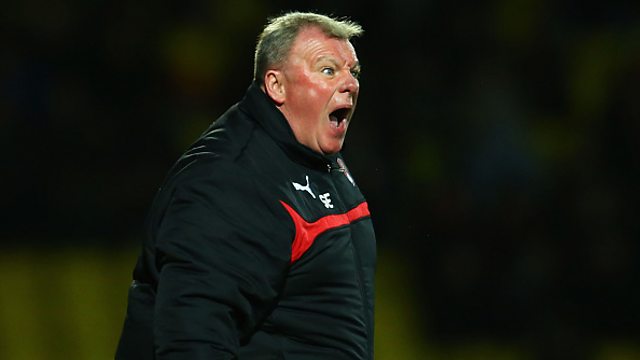 Steve Evans: 'Keep your trap shut, I'm drinking pink champagne'
Rotherham manager Steve Evans gave a spectacular interview with BBC Radio Sheffield after Rotherham secured their place in the Championship next season with a 2-1 win over Reading.
Evans, who joined fans and players on the pitch after the game, said: "I have no finger nails left after the last 10 minutes!"
"It's my best ever result as a manager, ever. The pressure has been intense. There's not been a lot of sleep. There's been heartache."
"There was a Millwall player who said we've not got bottle. Well, I've got 12 bottles of pink finest champagne and we'll be drinking them for about a week! Look forward to League One, son, and keep your trap shut!"
Rotherhams success means Millwall and Wigan will join Blackpool in League One next season.
This clip is from 5 live Sport on Tuesday 28 April 2015.
Duration: