Main content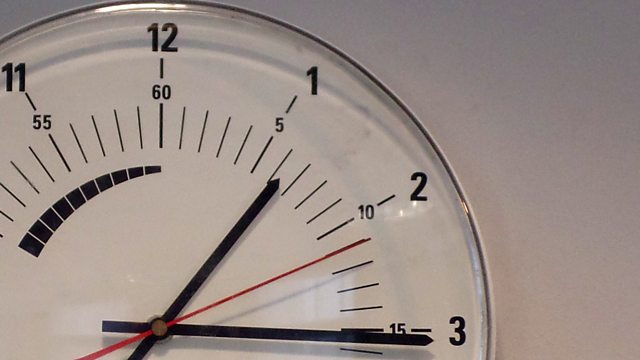 How Long is 'Now'?
How do we perceive time passing? With neuroscientist Virginie van Wassenhove, writer Shumon Basar and music professor Lawrence Zbikowski.
How does our brain perceive time passing? Is there such a thing as a 'now', and if so, how long is it, exactly? And, why do we sometimes feel that time has slowed down or even stopped altogether, for instance when listening to music or in extreme situations? Helping to explain the latest thinking and research about time, the brain and the world are cognitive neuroscientist Virginie van Wassenhove, writer Shumon Basar, author of a new book about an 'extreme present', and Lawrence Zbikowski, professor of Music at the University of Chicago.
(Photo: Part of an analogue clock face. Credit: Shan Pillay)
Chapters
Virginie van Wassenhove

How the brain tracks time

Duration: 12:22

Shumon Basar

A guide to the 'extreme present'

Duration: 07:33

60 Second Idea

Getting back lost time

Duration: 03:54

Lawrence Zbikowski

Music makes time stand still

Duration: 13:10

Virginie van Wassenhove

Virginie van Wassenhove  is the director of the Magnetoencephalography centre at NeuroSpin, a research neuroimaging centre of the French Atomic CEA  and a principal investigator at INSERM , the French National Health Research Institute.

Shumon Basar

Shumon Basar is a writer, editor and cultural critic. His latest book, coauthored with Douglas Coupland and Hans Ulrich Obrist, is called The Age of Earthquakes: A Guide to the Extreme Present. Shumon also holds editorships at Tank magazine, Bidoun magazine, and is Commissioner of the Global Art Forum in Dubai.

Lawrence Zbikowski

Lawrence Zbikowski is an Associate Professor of Music and the Humanities in the Department of Music at the University of Chicago. His principal research interests involve applying recent work in cognitive science to various problems confronted by music scholars, with a particular focus on music theory and analysis.

Sixty Second Idea to Change the World

Shumon Basar wants to create a personal 'time-bank'. It would record exactly how much of your day has been lost when technology chooses vindictively to not work: when your computer freezes or there's no phone signal. Then, just before sleep, you would strap your phone onto your head, turning it into a personal virtual reality environment. Ping! Suddenly you are on an idyllic island beach. In real terms, you'll be there for exactly the time you lost during the day. In neural terms, time will stretch by ten times. One lost, frustrating minute from the day will feel like many rejuvenating minutes on a better side of the planet.