Main content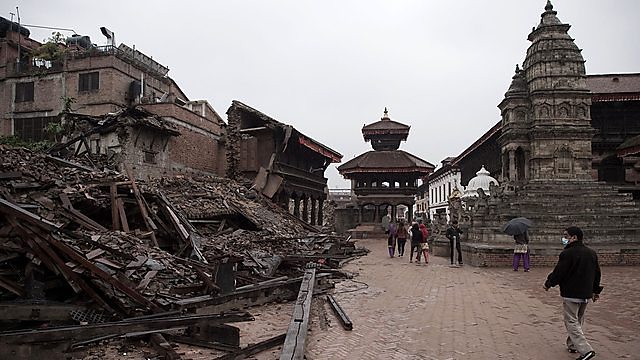 Nepal earthquake
Science news and highlights of the week
Experts had long been expecting a devastating earthquake in Nepal - the Himalaya are being squeezed at 2cm a year by tectonic forces, as India and Asia collides. The faults were bound to fail at some time, but at what time? Science cannot tell. But science can help in the immediate aftermath - by showing how bad the shaking has been, where it was worst, and where the victims may be found. Roland Pease talks to geologists about what's known about the earthquake and to health reporter, Smitha Mundasad, about the medical efforts to get help delivered as quickly as possible to the places it is most needed - whether it's in damaged buildings, or beneath deadly landslides.
Safe surgery in the developing world
Two thirds of the global population don't have access to safe surgery, says a new study published in the journal The Lancet. Claudia Hammond asked one of the authors Andy Leather, Director of the King's Centre for Global Health, what this lack of safe surgery means on the ground and what needs to be done to improve the situation.
Stammering
Stammering is a condition that occurs at the same level in all cultures, countries and languages. It usually begins in early childhood when speech is developing but this is also a time of natural faltering, so therapists and parents have to decide when and whether to intervene. To add to the complexity many young children who stammer may recover naturally– but it's universally agreed that to identify those that will persist is critical.
Bees to Deter Elephants
The Elephants and Bees Project is an innovative study in Kenya. The researchers discovered that elephants are scared of bees. So if you do not want elephants entering your farm and trampling your crops and destroying your buildings, hang beehives on the fence line!
Presented by Roland Pease with comments from Smitha Mundasad
Produced by: Deborah Cohen
(Photo caption: Pedestrians walk past a collapsed structure that over-looked one of the squares in the UNESCO world heritage site of Bhaktapur on the outskirts of the Nepalese capital Kathmandu on April 30, 2015, following a 7.8 magnitude earthquake which struck the Himalayan nation © NICOLAS ASFOURI/AFP/Getty Images)
Last on
Broadcasts