Main content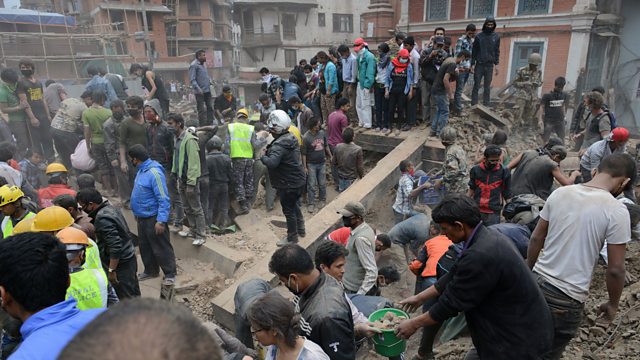 Nepal Mapping Disaster
Locating missing victims of Nepal's earthquake, new technology allowing wheelchair users better control of their wheelchairs, surveillance on the web and women in technology.
What can be done to track loved ones and friends who may have been affected by the earthquake in Nepal? The OpenStreetMap initiative taps into the huge enthusiasm for volunteers to lend a hand. But what are local people doing themselves? Click hears from Nama Budhathoki from Kathmandu Living Labs about the volunteers locally and remotely using open street map technology to help locate the missing.
GyroSet
GyroSet is a new technology that offers to help people with paralysis and others who are wheelchair bound. It is one of the eagerly awaited technologies on display at the trade fair, Naidex in the English city of Birmingham. Click hears from Mark Istvan from NowTech whose Hungarian company has developed GyroSet. And Tom Nabarro who a few years ago was paralysed in an accident, tries out the GyroSet - a gyroscopic head control that will enable him to control his powered wheelchair.
Do Not Track
Brett Gaylor has a new project called Do Not Track - a multi-part web series based around privacy, surveillance and the economy of the web. It aims to reveal all the third parties that are tracking your movements across the web. The film involves a high degree of interaction to highlight the extent by which we all leave digital footprints that are followed and exploited by companies. Click talks to the director, Brett Gaylor.
Code
Code is a film by Robin Hauser Reynolds about the under-representation of women in technology, and what can be done about it. Back in the 1960s programming was advertised as a good profession for women to enter. In the USA the number of women coding rose and rose to a peak in the 1980s of 40%. Since then it has steadily declined to less than 20%. Click discusses with Robin Hauser Reynolds the reason for this decline and how can it be reversed?
(Photo: People clear rubble in Kathmandu's Durbar Square, a Unesco World Heritage Site that was severely damaged by an earthquake on 25 April 2015 ©Prakash Mathema/AFP/Getty Images)
Last on

Broadcasts