Main content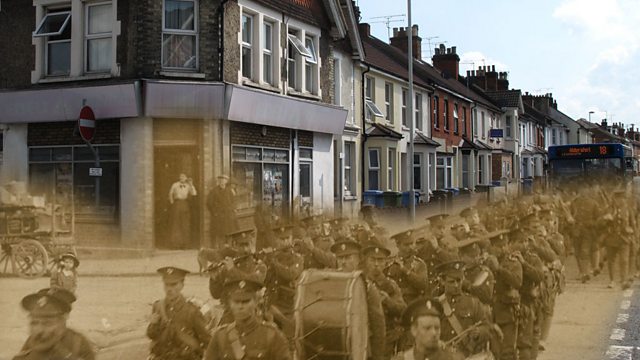 Aldershot: The Home Of The British Army in WW1
At the beginning of 1914; Aldershot was the largest army camp in the country. Home to two Infantry Divisions, a Cavalry Brigade, and large numbers of artillery, engineers, service corps and medical corps; 20% of the home British Army was based there.
When war broke out Aldershot's units became the 1st Corps of the British Expeditionary Force. In their place thousands of recruits came to the huge training centre at Aldershot.
The impact on the civilian town was profound. An already severe accommodation crisis was exacerbated when the army took over many houses and schools to billet soldiers under training.
Aldershot's role was vital; it provided the nucleus of the 1914 army, treated the wounded from the fighting, and ensured a constant supply of trained men for the fighting.
Location: Aldershot, Hampshire GU11 2LG
Image: Aldershot then and now, courtesy of Paul Vickers
Presented by Emily Jeffery
Duration:
Featured in...
Places in Sussex & Surrey that tell a story of World War One
More clips from World War One At Home