Main content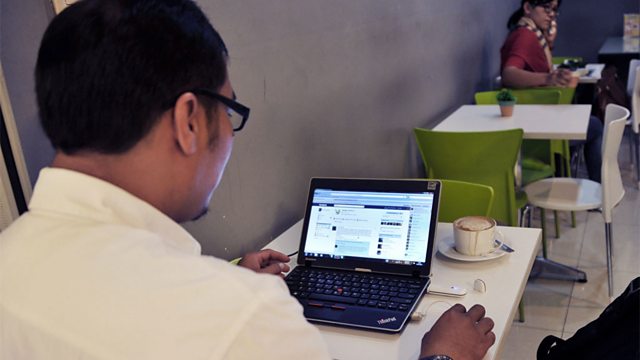 Internet.org in India
Facebook's free service Internet.org in India runs counter to net neutrality critics say. Plus, the perils of blogging, landing drones safely and Moore's Law 50 years on.
Facebook's free service Internet.org has taken another big step by expanding into Indonesia. But its move earlier into India has come under pressure and criticism that it runs counter to net neutrality. Critics argue that it might lead some people to think that Facebook is the internet and that subscribers of Internet.org might not realise the ability to upgrade to full internet use. Click talks to Mahima Kaul, the Head of Cyber and Media Initiative at the Observer Research Foundation about the reaction in India.
The Perils of Blogging
In recent months bloggers around the world have been singled out, attacked and sometimes killed. Their crime is using blog posts to raise awareness about corrupt practices in their society. This should have been a golden age of the dissemination of information and yet it has yielded instead a new censorship. Click hears from Joel Simon, the executive director of the Committee to Protect Journalists and Jodie Ginsberg from Index on Censorship.
Safe Landing for Drones
Researchers at the Robotics and Perception Group of the University of Zurich have unveiled new technology to automatically recover and stabilise a drone that goes awry as well as execute an autonomous landing in instances of failure. Click interviews the leading researcher, professor Davide Scaramuzza.
Moore's Law 50 Years On
April 19 marked the anniversary of Moore's Law which began as a simple observation in 1965 by Gordon Moore about the regular growth of processing power of computers. It has become the fundamental building block of all technology. Over the last 50 years, Moore's Law has affected every facet of modern society, changing how we work, live and play. Some say, just as fundamental as electricity. Click talks to Intel's futurist, Steve Brown, about whether Moore's Law will continue ad infinitum.
(Photo: A man opens Facebook on his laptop at a coffee shop in Jakarta © Bay Ismoyo/AFP/Getty Images)
Last on
Broadcasts