Main content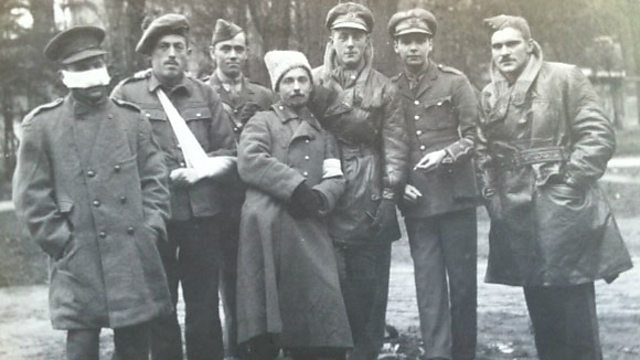 Ashburton, Devon: Bertram Blight: Banker Turned PoW
Bertram Blight's story is about respect, recovery and resilience during WW1
Bertram Blight was a banker. He became a soldier, a prisoner of war (PoW) and one of the first plastic surgery patients.
Bertram Blight left his job as a bank clerk in Plymouth in 1916. By October 1917, he was serving as part of the 9th Battalion, Devonshire Regiment in Gheluvelt, near Ypres. Whilst trying to gain ground near a railway embankment, he was hit by machine gun bullets and left for dead. His masonic ring saved him. A German soldier noticed it and realised Blight was alive. With severe facial wounds, he was taken prisoner and transported to Stettin near the Baltic Sea.
His injuries were not treated until he returned to England in July 1918, possibly as part of a prisoner swap. He attended hospitals in London (Millbank), in Teignmouth (Everest) and in Sidcup (Queens). He was also at Wandsworth Hospital whilst the sculptor Francis Derwent Wood was making masks in his 'Tin Noses Shop'.
Bertram Blight underwent at least twelve radical operations in two years at the specialist facial surgery hospital in Sidcup. Between June 1919 and October 1920, Captain Russell attempted to rebuild his nose and face.
In 1921, the Ministry of Pensions declared his wounds 'equivalent to loss of limb'. After multiple operations and with severe facial scarring, Bertram was offered his job back. He was soon promoted and served as Ashburton's bank manager for nearly 20 years.
His story is now part of 2014 Faces of Conflict – an international study into the relationship between art and facial reconstruction.
Bertram Blight died in Torquay in 1952, but is buried in Ashburton, alongside others who served in World War One.
Location: Lloyds Bank, East Street, Ashburton TQ13 7AB
Image: Blight pictured with other serving soldiers, courtesy of Gerald Blight
Duration:
More clips from World War One At Home