Main content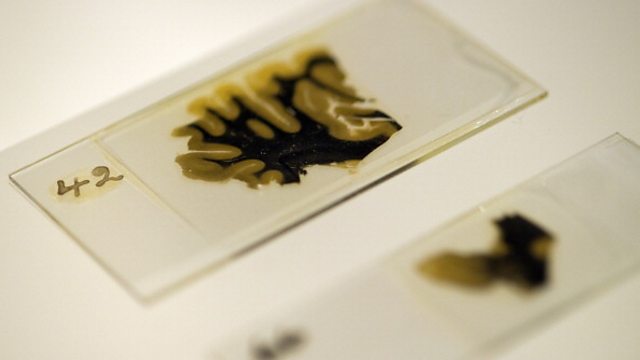 Can studying Einstein's brain tell us about his genius?
What the study of Einstein's brain reveals about his genius; parents leading research into their children's rare diseases; face masks against infection
Einstein's brain
Albert Einstein died 60 years ago, on April 18 1955, aged 76. His body was cremated, but for his brain, it was the start of a long and bizarre journey. The pathologist, Dr Thomas Harvey, kept Einstein's brain for scientific studies - probably against the wishes of his family. He - like many others - hoped it might shed light on what made Einstein such a genius. Graham Easton talks to Michael Paterniti, a journalist who managed to track down the elderly Harvey, about the road trip they took across the United States to meet Einstein's daughter - with Einstein's brain in a plastic container in the back of his car.
Frederick Lepore, Professor of Neurology & Ophthalmology at Robert Wood Johnson Medical School, Rutgers University, along with Dean Falk, has studied some previously unseen photographs of Einstein's brain. He tells Graham Easton what he has found.
Rare diseases
Historically, pharmaceutical companies and researchers have been reluctant to invest in finding treatments for rare diseases. It costs too much money and takes too long to develop therapies to treat too few patients. That's been tough for the six per cent of the world's population who are affected by one of the seven thousand or so recognised rare diseases. Leading the charge are the parents of children with rare diseases all round the world. Catherine Carr meets some of these families in the UK.
Face masks against infection
There are lots of different types of face masks to protect us from infection, from high-tech respirators often used by healthcare workers to surgical masks and even re-usable cloth masks. But the official guidelines on how effective these are or which masks work best for which situations are often conflicting. Thanks to a team of researchers in Australia who have carefully analysed what evidence there is, we now have a clearer picture. Graham Easton talks to the lead author, Professor of Infectious Diseases Epidemiology at the University of New South Wales in Sydney, Raina MacIntyre.
Picture: Thin slices of Albert Einstein's brain prepared by Marthe Keller in 1955 (credit: Getty Images)