Main content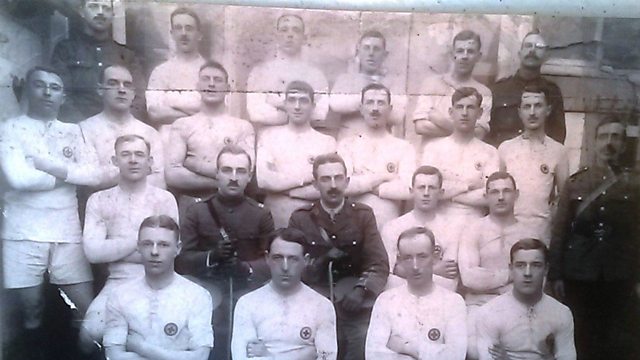 Camborne RFC, Crane Park: Wartime Rugby Match
Cornwall v Devon at Ypres, Belgium in 1915
The football match played between British and German soldiers during the Christmas Truce at the Western Front is known to many. But few know of a rugby match played just behind the frontline between soldiers from Cornwall and Devon. Many of the Cornishmen were from Camborne RFC; the club that supplied the ball.
Writing home to his family in Camborne, Private Ernest Fletcher explained how they managed to bring the game they loved to war torn France:
"Through the kindness of Camborne Football Club, who were good enough to send us a rugby ball, we, the 25th Field Ambulance, have been able to organise a series of matches between the Cornish lads and the Devon lads. The first match proved a victory for the Devons by 2 tries to nil. A week later we shifted down the line near La Bassee and played a return match which proved a win for the Cornish lads by 2 tries to a dropped goal. Capt. W. Blackwood of Camborne kicked off in each match."
Camborne RFC has compiled the team lists for the final match:
CORNWALL
Back - R. Brown,
Three Quarters - W. Bosanko, R. Chinn, J. Soloman, R. Treeby
Half Backs - E. Fletcher, Paltridge
Forwards - L.R. Pentecost, A.J. Williams, F. Head, E. Bray, W. Trimm, F. Negus, A. Young, Dunstan.
DEVON
Back - F. Lovell
Three Quarters - G. Lovell, Sergt. Pike, E. Curtis, F. Williams.
Half Backs - W. Eliott, C. Evans
Forwards - Mullins, Reed, Sergt. Cross, Downing, Walters, Whitford, Pepperell, Sergt. Patey.
Linesmen - W. Brookes, E. Rule.
Referee - Sergt. John Phillips (Camborne)
Descendants of these players uncovered the story during a local history project.
"How brave he was, being a miner in Dolcoath isn't the best thing for your chest. And if he could run with a rugby ball that must have been a thing," says Chris Negus, grandson of Fred Negus.
The Cornish lads finally secured victory – according to Ernie's account published in the local newspaper:
"After having a few days in the trenches we arranged the final which ended in a victory for the Cornishmen by a try to nil. The Cornish lads well deserved their win as, in the last match they were handicapped by Brown, their back, having to retire within the first fifteen minutes. This match was played on Whit Monday and instead of having the privilege of listening to the bands in Camborne, we had the music of the guns. One of the best Cornish Forwards, Penhorwood of Newquay, late Police Constable at Bodmin, was killed after the first game during our stay in the trenches" – an extract from Ernie Fletcher's letter, which featured in W. Briton News.
The final score of the game was 2:1 to Cornwall.
Location: Camborne RFC, Crane Park, Camborne, Cornwall TR14 7PJ
Image: Fred Negus' rugby team
Duration:
More clips from World War One At Home