Main content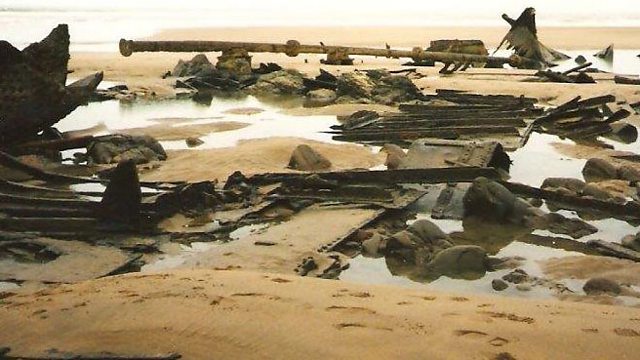 Bude, Cornwall: The Schoolboy Witness
The Bude schoolboy who witnessed coastal warfare
Arthur Madge was six-years-old when war was declared in 1914. He was a pupil at the newly formed St Petroc's school in Killerton Road, Bude.
As coastal warfare intensified merchant vessels clung to the coast for fear of enemy submarines lurking offshore.
In his 107th year, Arthur told BBC WW1 At Home that he still remembers the scene clearly to this day:
"I well remember walks out along the cliffs to Widemouth Bay as boys. On a sunny day we would sometimes see German U-boats on the surface, charging up their batteries. We could do nothing about it except warn the authorities, by which time they had submerged.
"The airship base at Langford between Marham Church and Week St Mary was of great interest. We used to count the airships flying over the sea to guard the convoys up the Bristol Channel, and sometimes they did not all come back."
Despite these airship patrols, the U-boats targeted the local fishing fleet. But it was poor weather and the craggy north Cornwall coast – not German torpedoes – that proved the breaking of the Portuguese ship 'Belem'. On 20 November 1917, she was wrecked in dense fog at Menachurch Point, Northcott Mouth, a mile north of Bude. All 33 crew were rescued as she was on a sand bank. The ship broke her back and wreckage still remains today.
Arthur continues: "I was a boarder at St Petroc's School, Killerton Road, Bude. In my dormitory there were five boys of my own age. About midnight we were awakened by loud bangs. Our housemaster called us down into the basement and told us not to be afraid. We then heard that these bangs were from a ship off Northcott Mouth, there was thick fog at the time."
The boys and their schoolmaster were keen to discover what had happened.
"As soon as dawn broke our master walked us along the cliffs. The fog was still very thick as we arrived and looking down we could just see the ship on the rocks. The life-saving 'gang' was there in operation hauling the poor seamen ashore by breeches bouy. They rescued all the Portuguese crew, including the little cabin boy who could speak some English. The ship was carrying a cargo of iron ore, bound for Cardiff. They had been sailing very close to shore to avoid German U-boats."
Location: St Petroc's school, Killerton Rd, Bude, Cornwall EX28 8EL
Image: Remains of the Belem wreck exposed in 1997, courtesy of Audrey Aylmer, Old Cornwall Society
Duration:
More clips from World War One At Home