Main content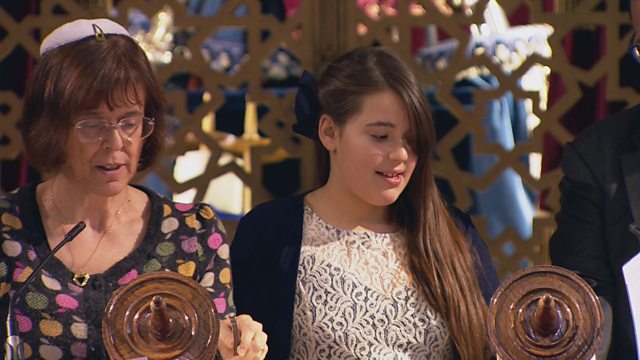 Bat Mitzvah
Reformed Jewish girl Me-Me prepares to become a 'Daughter of the Law' at her Bat Mitzvah ceremony, learning to pray and to read the Torah in public.
Me-Me loves to ride. And she loves pink. She belongs to the Reformed Jewish religion. At 12 or 13, Jewish young people can become 'sons or daughters of the Commandments', of the Torah. We see her learning to pray and sing in Hebrew, a test for every young Jewish person as they grow up. But she is not alone: the Rabbi and the family, in fact the whole community, are very supportive. We see her rehearsal with Rabbi Helen Freeman, a Reformed Jewish Rabbi from London, who describes the tradition. She supports Me-Me as she get ready to stand up in front of the whole community, declare her faith and begin a more grown up way of life as a young Jewish girl: with the responsibilities, and some nervousness, Me-Me says she is excited as well, the event makes her feel special for the whole year, and the support of friends and family is great. 'It's like a new chapter in my life…'
There is, after the serious ceremony, a huge party!
Good RE aims to show pupils diversity inside religion, so this clip uses the Reformed Jewish experience – other parts of the program film with Orthodox Jews.
Duration:
More clips from My Life, My Religion