Main content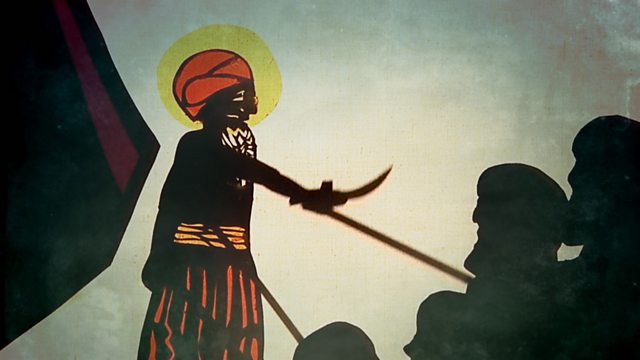 The Khalsa
The founding of the Khalsa 300+ years ago tested the commitment of Sikhs, and is retold her using shadow puppets.
The Khalsa Sikh community was founded more than 300 years ago during the harvest festival of Vaisakhi. The Tenth Guru, Guru Gobind Singh, called a crowd together, then stepped out of tent carrying a sword. He asked if anyone was prepared to give their life to God. One brave Sikh volunteered. The Guru took him into the tent, then returned with blood on his sword.
The people were horrified! But four more Sikhs stepped forward. And each time the Guru came out of the tent with blood on his sword. There was loads of like muttering among the crowd and people think the Guru had gone mad. Then to the crowd's great relief, all five men reappeared alive and well. Was the Guru testing his followers to see who had faith in the Guru no matter what he was saying?
The Guru made up the holy sugar water Amrit and sprinkled it on their eyes and heads. They shared a bowl to drink it. The men were now Khalsa Sikhs, Khalsa meaning pure. They became known as the Five Beloved ones, or Panj Pyare. Guru Gobind Singh Ji created another way for us to live by making the Khalsa, making the family. He also created names for us. So boys were 'Singhs', lions. Girls were 'Kaurs', princesses.
Becoming a Khalsa today is a choice and a commitment. And that commitment is to love God with all your heart and if need be sacrifice whatever you have for God.
Duration:
More clips from My Life, My Religion