Main content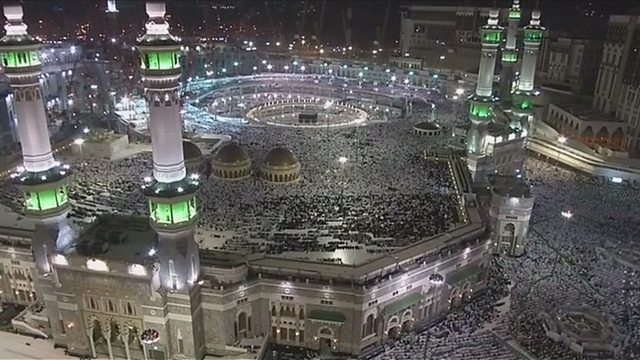 Hajj
Sara, 11, describes how the Fifth Pillar of Islam, pilgrimage to Makkah has an impact on Muslim people. The pilgrimage or Hajj brings about 4 million Muslims together.
Sara, 11, a Muslim girl, is planning to go to Makkah on the Muslim Hajj one day. She talks to Mary Batool, a tour guide for the pilgrimage, who describes what happens at the Ka'bah as a focal point of prayer and submission to God. She describes different parts of the pilgrimage using a model, some of the artefacts of the pilgrim and video footage of the different rituals. These rituals are both reminders of stories from the lives of the Prophets and are aimed to help pilgrims to set their own spiritual intentions for the future. The clip shows some of the key events of the Hajj, including:
• circling the holy Ka'bah 7 times;
• running between the hills of Al-Safa and Al-Marwah, remembering a story of Hagar and Ismail;
• standing in prayer on the plains of Arafat, where the Prophet Muhammad (PBUH) preached;
• stoning the jamarats, a way of rejecting evil in oneself.
The pilgrimage often has a big impact on Muslim people: it needs to be well planned. Sara describes how she feels that this, the Fifth Pillar of Islam can be a very spiritual experience.
Duration:
More clips from My Life, My Religion