Main content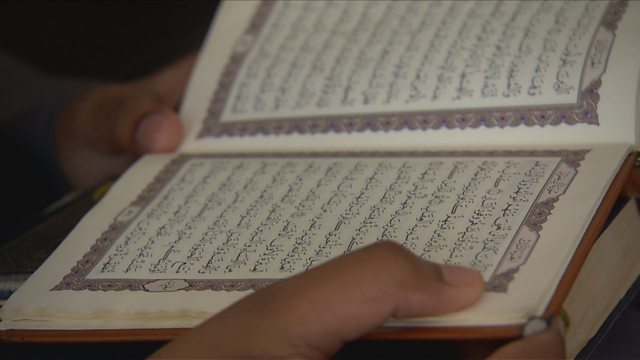 The Qur'an
Two 12 year olds boys from London, Kaisan and Naeem, explain their beliefs and practice about the Holy Qur'an, the Muslim scriptures.
Two 12 year olds boys from London, Kaisan and Naeem, explain what they believe about the Qur'an and how they practice reading and applying the Muslim holy scriptures. They are good friends, and share their work, their football, and their wish to learn the Qur'an so they practice together. Learning whole chapters of the Qur'an by heart is seen as a great way to show commitment: Naeem has learned 14 chapters. The story of the first revelation by the Angel Jibril to Prophet Muhammad (PBUH) explains how the words of Allah, in the original Arabic, were revealed to the Prophet in Makkah over 1400 years ago.
The teachings of the Qur'an make a difference to life because they show Muslims how to follow Allah. Some examples include: Don't lie. Respect your parents. Thank God for all the good things in life. God rewards those who do good deeds ten times over! In Islam, living out what you believe is what really matters. The boys explain this by saying 'it's not just a religion – it's a whole way of life.'
The boys demonstrate some symbols of respect for the words of Allah in the holy Qur'an including keeping the book on a high shelf, above other books, washing before handling the Qur'an, learning and memorising the words in Arabic: the most important thing is to follow the teaching of the scriptures.
Duration:
More clips from My Life, My Religion