Main content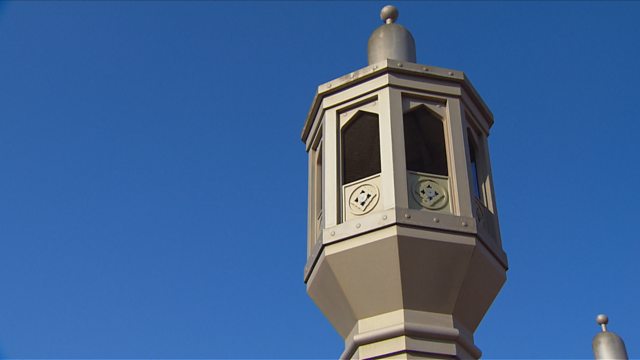 The Mosque
The large mosque in east London is a house of prayer for Muslims, and has huge numbers of worshippers every year. Kaisan, 12, shows us round the house of prayer.
The Masjid ('mosque' in English) is important in Islam as a place to submit to Allah. The East London Mosque, which attracts over 1 ½ million people each year, is one of the UK's largest. Abdullah Hasan who works there explains that the mosque is a place to learn how to worship, to learn about Allah, and to learn how to become a good human being. You could ask pupils how a mosque might enable these three kinds of learning. The mosque has no images or pictures of God or the prophets: that is considered disrespectful in Islam. The religion forbids worshipping with images. Instead, the beautiful architecture, patterned carpets, stained glass windows and calligraphy show devotion to Allah in the way the building is put together. The Prophet Muhammad taught that whoever builds a mosque for Allah in this world, Allah will build a home for them in the next world. So building a mosque is seen as a very spiritually valuable thing to do. But another teaching says 'The whole world has been made a mosque for you' – so wherever you are can become a place of prayer. We see Kaisan praying at home as well as at the mosque.
Background for the teacher: the first mosques in the UK were built over 130 years ago in Woking and Liverpool. There are now over 1700 mosques in the country altogether. Separate worship areas for men and women are designed to prevent distraction when you pray, and are not seen as sexist by Muslims.
Duration:
More clips from My Life, My Religion