Main content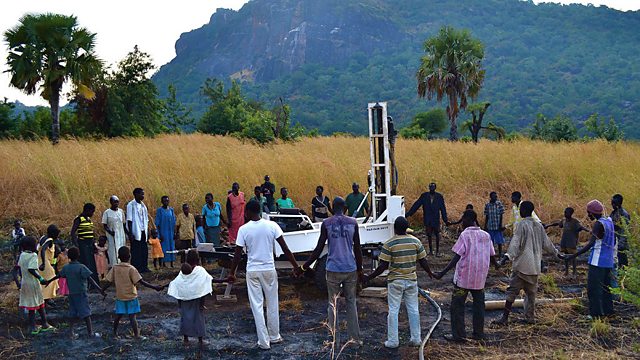 Refugee Drilling for Water in South Sudan
When Buey Tut was growing up in South Sudan, he remembers the struggle to fetch water. 20 years later he tells Matthew Bannister how he's returned to drill wells in his homeland.
When Buey Tut was a boy growing up in a village in South Sudan, he remembers the daily struggle his family had to fetch water. Twenty years later, and now living in Omaha in the American state of Nebraska, Buey has founded a charity called Aqua Africa that is drilling wells in his homeland.
An unlikely new star has emerged from this year's Eurovision Song Contest run-off in Sweden. And he was not even a singer. Tommy Krangh was the sign language interpreter who gave such an energetic performance that he completely upstaged the artist. A video of his dancing to Magnus Karlsson's song With Me In the Old Town went viral on the internet.
Four women refugees who fled war and violence in Africa have created a theatre show about their experiences. The women all settled in Baulkham Hills, a suburb of the Australian city of Sydney - so they call themselves the Baulkham Hills African Ladies Troupe. They recently performed at the Women of the World festival in London and our reporter Felicity Finch talked to two of them - Rosemary Kariuki-Fyfe from Kenya and Aminata Conteh-Biger from Sierra Leone.
On Friday, American astronaut Scott Kelly is embarking on a special year-long mission to the International Space Station. Because Scott's twin brother Mark - who is also an astronaut - will be monitored back on earth so that the differences between their physiology can be recorded.
(Photo: Buey Tut and villagers watch the drill at work. Credit: Aqua Africa)