Main content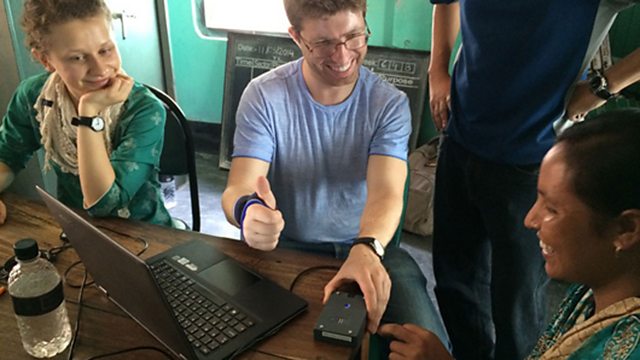 Digital Fingerprints
Privacy concerns over Hello Barbie interactive doll. Plus, fingerprint recognition helps track patients in Bangladesh, crowd sourced tiger conservation, and kids and programming.
Hello Barbie
Privacy campaigners are worried about Hello Barbie, touted as the world's first interactive doll. When a child converses with the doll, the user's voice is not just processed in Barbie's on board brain but via the internet to a server. We ask are recordings of children being passed to third party service providers, and is this really toying with children's privacy?
Digital Fingerprints
We hear from Bangladesh and trials of a mobile phone based system to help health workers track their patients. In the country millions of people do not have health records – so when a patient turns up at the clinic it can be impossible to verify who they are or find out about their medical history? One way of keeping track is to use fingerprint recognition and that is the idea behind SimPrints – a specially built system that uses a microcontroller to scan the finger, and then exchanges the scan with a central server through a mobile phone, linking a patient's fingerprints to their health records.
Wildsense
Wildsense is a project where citizen science meets tiger conservation, a project to learn more about the creatures, to classify them and locate them, all in order to help safeguard them. The good news is that there are hundreds of millions of images of tigers online. But the bad news is also that there are lots of images out there. When it is far too much for any individual researcher to go through, you either use machine image recognition, or as the Wildsense project has done, you bring in the power of the crowd. As we hear, the 'crowd' side of things is an app in which volunteers can pore through photos identifying the ones that contain the animals.
Micro Bit
The BBC has launched a small programmable device aimed at encouraging young people - children especially - to get into programming. The BBC has a track record in getting young people into computer programming. Thirty years ago it launched the BBC Micro - the computer that ended up in thousands of schools around the UK. The Micro Bit will be given to one million British schoolchildren later this year. We compare the Micro Bit with other systems designed to teach coding to school children.
(Photo: Using fingerprints as the key to secure health records in Bangladesh © SimPrints)
Chapters
Hello Barbie

Privacy concerns over world's first interactive doll

Duration: 05:40

Digital Fingerprints

Why fingerprints hold the key to secure health records in Bangladesh

Duration: 05:21

Wildsense

Saving tigers through crowd sourcing app

Duration: 03:14

Micro Bit

A new device to teach coding in schools

Duration: 05:13