Main content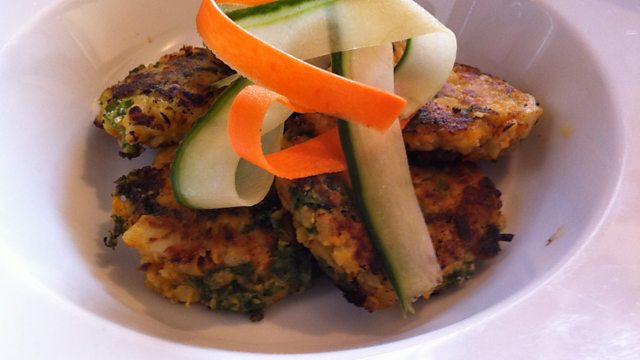 Spiced Cauliflower and Kale Fritters
Ben Jackson and Janine Finch cook up spiced cauliflower and kale fritters.
Indian Spiced Cauliflower and Kale Fritters:
Ingredients:
Makes about 20 fritters
- 1 Whole Cauliflower broke into its florets
- 3 handfuls of Curly Kale chopped
- 1 1/2 sweet potato chopped into 1/3's if large
- 1 medium onion diced finely
- 3 cloves of Garlic
- 1 tsp of Cumin seeds or ground if have it
- 1 tsp of Ground Coriander
- 1/2 tsp of Turmeric
- 1 tsp of mustard seeds
- 1/2 large green chilli diced finely
- 1/2 tsp of chilli powder (hot)
- 1 Lime
- Small handful of flat leaf parsley chopped
- Plain flour to coat fritters
- Rapeseed oil
- Salt and pepper to season
- Lime
Method:
* Boil Sweet potato until soft, take out of pan and dry on kitchen paper.
* Boil cauliflower until soft.
* Fry off onions and all spices, leave to one side to cool.
* When Cauliflower is soft, take out with a slotted spoon, pop on to kitchen paper to dry. leave water to keep boiling for the Kale to go in.
* Cook Kale for a couple of minutes and once again, dry off with kitchen paper and chop down.
* Into a Bowl mash with a potato masher all the veg and add the onions and spices.Add Salt and Pepper.
* Add the chopped parsley, mix all together and start to make a ball in your hands with mixture, pat into a fritter/Patty shape, dust with plain flour and fry off in a hot pan with rapeseed oil in.
* Fry for a few minutes each side and serve in a bowl with salads, chutneys and wedges of Lime.
Duration:
More clips from Ben Jackson