Main content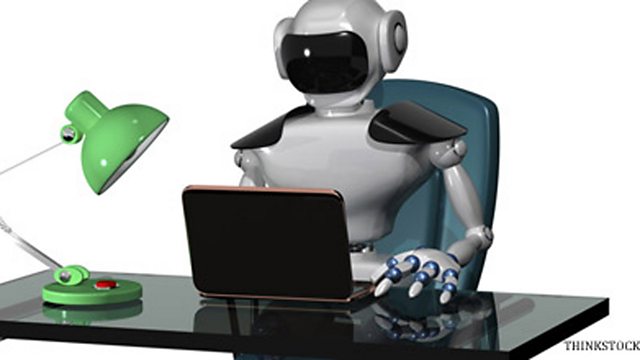 The Future of Management
How people management in the workplace is changing. With robotics expert Ken Goldberg, Tarun Khanna from Harvard and Lynda Gratton from the London Business School.
With globalisation and artificial intelligence making a huge impact on the world of business, how might we manage people in the future? Bridget Kendall talks to robotics expert Ken Goldberg, The head of Harvard's South Asia Institute Tarun Khanna and Lynda Gratton from The London Business School.
(Photo: A robot sits behind a desk with a computer and desk lamp. Credit: Thinkstock)
Chapters
Lynda Gratton

What needs to change for management to improve?

Duration: 05:29

Tarun Khanna

Can Management easily transfer across countries and cultures?

Duration: 15:17

60 Second Idea

Banning emails. Lynda Gratton wants to ban all internal emails.

Duration: 04:30

Ken Goldberg

Why there won't be a robot apocalypse.

Duration: 14:00

Lynda Gratton

Lynda  Gratton is a Professor of Management Practice at London Business School where she directs the program 'Human Resource Strategy in Transforming Companies'.

Over the last 20 years Lynda has written extensively about the interface between people and organisations.  Her latest book The Key (published in June 2014) looks at the impact of the changing world on corporate practices and processes and on leadership.

She was named by The Times/Harvard Business Review 'Business Thinkers 50' as one of the top 15 business thinkers in the world and is  a Fellow of the World Economic Forum.  

Lynda argues that collaboration and innovation are the key to managing well and says we should be worried about computers and robots taking human jobs. There will be managers but fewer and more skilled.

Tarun Khanna

Tarun Khanna is an Indian-born American academic, author, and an economic strategist. He is currently the Jorge Paulo Lemann Professor at Harvard Business School; where he is a member of the strategy group, and the director of Harvard University's South Asia Institute since 2010.  

In 2009, he was elected as a fellow of the Academy of International Business. Tarun explores how we might approach managing more effectively across different countries and cultures and says that robots and artificial intelligence should be seen as  an opportunity and not a threat.

Ken Goldberg

Ken Goldberg is an artist and UC Berkeley professor. He and his students investigate robotics, automation, art, and social media. Goldberg directs the Automation Sciences Research Lab, co-directs the Center for Automation and Learning for Medical Robotics, and is Faculty Director of the CITRIS Data and Democracy Initiative.

Ken was  awarded the Presidential Faculty Fellowship in 1995 by President Clinton. Ken argues that robotics and ai will of course change things but not in the apocalyptic way predicted by some. He suggests that there is a definite limit to what robots can do and humans will always be in charge. He's excited about the possibilities offered by robots and predicts more human managers in some areas  and not fewer.