Main content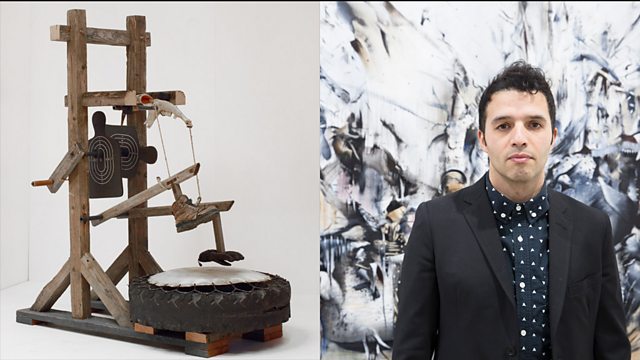 Border Music and Painting Sound
Making instuments from reclaimed Mexican border objects junk; Iraqi artist Ali Banisadr on hearing colours
American photographer Richard Misrach and Mexican composer Guillermo Galindo are two artists who have come together to depict the migrant experience on the Mexican/US border. Richard has spent 15 years taking pictures of items left behind by migrants. Then he met Guillermo who was making music about the migrant experience. Richard now collects pieces he finds and sends them to Guillermo who turns them into instruments.
Ali Banisadr grew up in the Iranian capital Tehran in the 1970s and 80s surrounded by the sounds of the bombing of the Iran-Iraq war. As a child, he started painting pictures of monsters to make sense of the sounds he heard. Now, as an internationally successful artist, he makes large and complex paintings, patterned with frenzied, surrealist figures. And his painting is all based on a synaesthesia - where each stroke of the paintbrush relates to a sound in his head.
Bangladesh is a relatively new country, created in 1971, but it has a long tradition of poetry, written in the Bangla language. To find out about the place of poetry David Amanor is joined by two BBC Bangla journalists and poetry fans, Manoshi Barua and Pulak Gupta.
Helen Fitzgerald is an Australian social worker who lives in Scotland and works with offenders and people who have been released from prison. But she's also a successful thriller writer.
The German mezzo soprano Brigitte Fassbaender is world renowned for her dramatic impact, a talent inherited from her actress mother and singer father. She was best loved for her roles in Der Rosenkavalier and Die Fleidermaus. She retired from the stage in the mid 1990's and has since forged an equally impressive career as opera director. Now 75, Fassbaender continues to direct and also teaches masterclasses to young opera singers around the world.
Image: Instrument 'Zapata 2014' by photographer Richard Misrach and composer Guillermo Galindo; Iranian artist Ali Banisadr
Last on
Broadcast