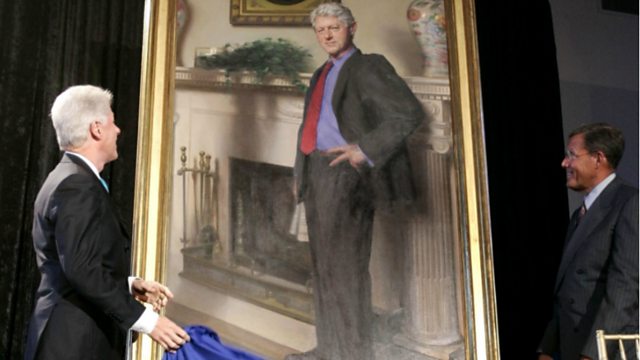 Bill Clinton portrait has Monica Lewinsky dress shadow
A portrait of Bill Clinton in Washington's National Portrait Gallery will probably now be seen in a new light, after the artist, Nelson Shanks, revealed that a shadow painted into it is a reference to Monica Lewinsky's blue dress - the stains on which proved her liaison with Mr Clinton.
Georgina Adam, editor at large of the Art Newspapers, who writes for the Financial Times, thinks the shadow is very obvious and may be wrong for an official portrait to include something negative.
"I think it's very curious that nobody asked what the shadow was when the portrait was painted and hung," said Georgina Adam.
Whereas Daphne Todd, the former president of the Royal Society of Portrait Painters, thinks it is a compositional device and it isn't wrong for artists to do this.
"Personally I found that the shadow is not of a kneeling figure which might have been rather more suggestive," said Daphne Todd.
She points to other clues including the positioning of his fingers and the newspaper 'highlighting a certain that part of the anatomy that caused the offence'.