Main content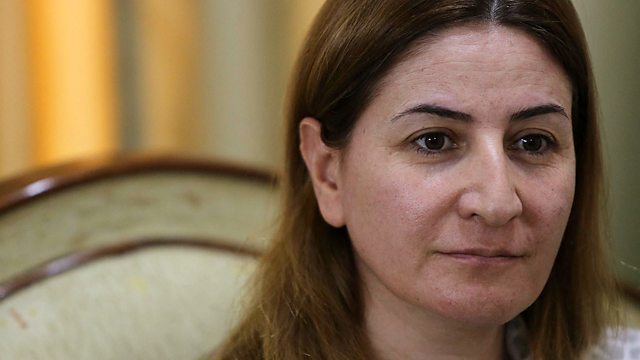 Saving My People from ISIS
Vian Dakhil, Iraq's first female Yazidi MP speaks out against ISIS.
Vian Dakhil is the only female Yazidi MP in the Iraqi parliament. When Islamic State fighters seized the town of Sinjar in northern Iraq last year, hundreds of Yazidis were killed and thousands were stranded on Mount Sinjar without food or water. Vian Dakhil stood up in parliament and made an impassioned plea on behalf of her people - calling for an intervention. She told Matthew Bannister about that speech and the impact it made around the world.
The German mezzo soprano Brigitte Fassbaender is world renowned for her dramatic impact, a talent inherited from her actress mother and singer father. She was best loved for her roles in Der Rosenkavalier and Die Fleidermaus. She retired from the stage in the mid 1990s and has since forged an equally impressive career as opera director. Now 75, Fassbaender continues to direct and also teaches masterclasses to young opera singers around the world.
In 1992, Randy Thomas joined a Christian organisation in the US called Exodus, that claimed to help people who wished to limit their homosexual desires. Randy became what he calls an "ex-gay poster boy" for them - but in 2013, Exodus issued an unreserved apology for the hurt and shame it had caused to gay people over the years and shut down. Then earlier this year, Randy decided to himself came out as gay, for the second time in his life.
Growing up in a poor favela in Rio, Antonio Vieira beat the odds, studied hard, and went on to do a law degree. Now, he is the founder and director of the Museu da Maré - a museum of the history of favela living.
(Photo: Vian Dakhil MP. Credit: Mohammd Sawaf/AFP/Getty Images)
Last on
Broadcasts