Main content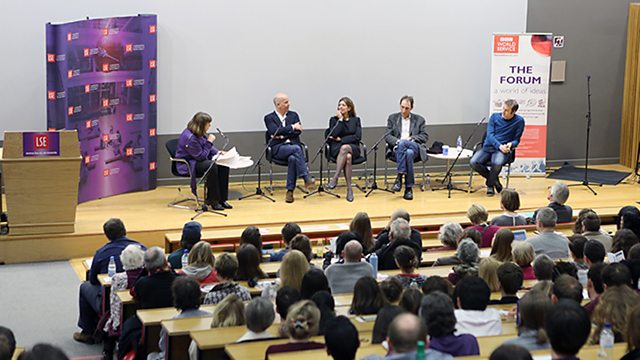 The Forum at Space for Thought Festival
Author Will Self, biologist Armand Leroi, politics expert Leslie Vinjamuri and mathematician Matt Parker all want to change the foundations of their respective disciplines.
Author and columnist Will Self, evolutionary biologist Armand Leroi, international relations expert Leslie Vinjamuri and stand-up comic and mathematician, Matt Parker challenge the established foundations of their fields in a lively discussion at the London School of Economics with presenter Bridget Kendall.
Chapters
Matt Parker

Maths Challenge 1

Duration: 06:26

Will Self

Does the move to digital spell the end of the serious novel?

Duration: 07:10

Leslie Vinjamuri

How do you square justice with reconciliation?

Duration: 08:19

Matt Parker

Maths Challenge 2

Duration: 04:28

Armand Leroi

Should we think of Aristotle not as a philosopher but as the first biologist?

Duration: 10:19

Matt Parker

Is math the best language to communicate with aliens?

Duration: 03:20

Will Self

Will Self is the author of ten novels, five collections of shorter fiction, three novellas, as well as a prolific journalist and a frequent broadcaster. Will explains why he thinks the modern serious novel is an art form in danger of dying.

Leslie Vinjamuri

Leslie Vinjamuri is Co-Director of the Centre for the International Politics of Conflict, Rights and Justice at the School of Oriental and African Studies. Leslie questions whether justice should always go hand in hand with efforts to build peace.

Armand Leroi

Armand Leroi is an author, broadcaster, and Professor of Evolutionary Developmental Biology at Imperial College London. Armand asks us to recognize Aristotle's role in inventing biology.

Matt Parker

Matt Parker is possibly the only person to hold the prestigious title of London Mathematical Society Popular Lecturer while simultaneously having a sold-out comedy show at the Edinburgh Fringe. Matt tests our mental arithmetic skills and suggests that math might be the best language to communicate with aliens.