Main content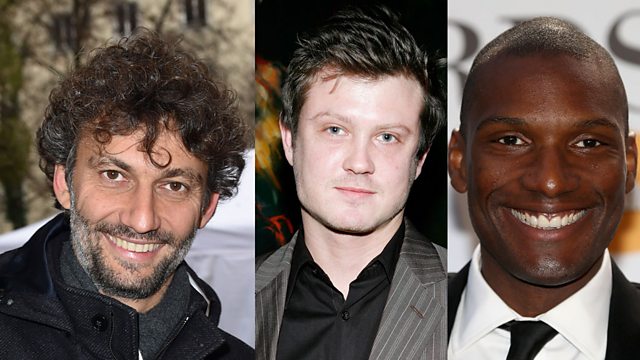 Jonas Kaufmann, Beau Willimon, Noah Stewart
An opera theme with singers Jonas Kaufmann, Noah Stewart and Ailyn Pérez. Plus, Cameroonian traditional singer Tata Kinge and new London stage show Fireworks, about escaping Gaza.
An opera theme with Jonas Kaufmann discussing his father's fear that he would live poorly as a singer, doing so-called 'Brotlose Kunst' – bread less art. House of Cards' producer Beau Willimon claims that Bill Clinton reckons this Washington drama series is 99% accurate. African-American opera singer Noah Stewart remembers how he was told that his skin-colour would bar him from success - it has not. Cameroonian traditional singer Tata Kinge talks about his album and the sound he believes he pioneered - Cha Cha music.
Ailyn Pérez, on partner station WNYC's Leonard Lopate show, discusses her debut at the Met Opera in NYC. And, we look at Fireworks, a new show about two families escaping siege in an imaginary Palestinian Gaza, on the London stage.
(Photo: Jonas Kaufmann (c) Hannes Magerstaedt/Getty Images, Beau Willlimon (c) Amy Sussman/Getty Images, Noah Stewart (c) Leon Neal/Getty Images)
Last on

Music and featured items
Jonas Kaufmann

The German tenor speaks to Kirsty Lang about his career

Duration: 09:41

Beau Willimon

The showrunner and writer talks about House of Cards now in its third series

Duration: 09:07

Arts News

Lizo Mzimba brings us the latest film news

Duration: 04:10

Noah Stewart

The African American opera singer talks about what inspired him as a young boy

Duration: 08:13

Tata Kinge

New music from Cameroon

Duration: 04:18

Ailyn Pérez

The Soprano tells us about her debut at The Met in New York singing Micaela in Carmen

Duration: 07:29

Fireworks

Dalia Taha's new play offers a refreshingly oblique perspective on the conflict in Gaza

Duration: 06:28

Broadcasts