Main content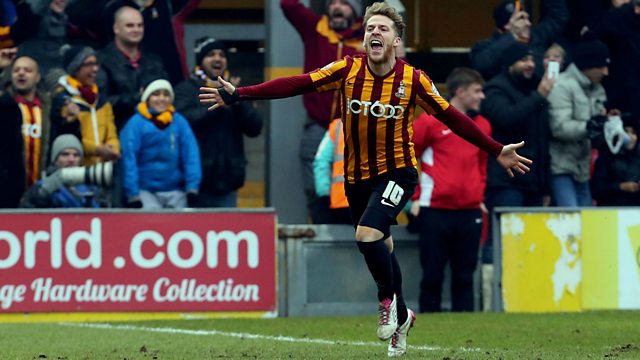 FA Cup Quandary
Why one players FA Cup dream might leave his bride waiting at the alter
This season's FA Cup has been dominated by the giant killing exploits of Bradford City. Wins away at Chelsea and home to Sunderland have seen them through to the quarter-finals. Few would have thought that come March they would still be in the competition. Not least Bradford City forward Billy Clarke who already has plans for FA Cup final weekend in May. He is due to get married the day after the final.
FA Cup Giant Killing?
So what chances of Billy and his team mates repeating their now lengthy list of giant killings, and how do some teams manage to overcome the odds on the pitch? We explore the psychological requirements to kill giants!
To mark International Women's Day we speak to some of the women who have made the biggest impact in sport, off the field. From those women in the boardrooms to those ruling governing bodies. We hear from managers, trainers and officials.
Dentaa Amoateng
Equally adept in the world of business, in music or when presenting her own TV chat show Dentaa Amoateng has for many years dealt with matters away from the pitch of the very best footballing talent Ghana has to offer, including Asamoah Gyan.
Holy Cow!
Fiona Oakes only took up running a few years ago but her competitive spirit drove her to be the best she could be. She now holds three world records in long distance running! Fiona is also a vegan - meaning her diet is without any meat or animal products, but she proudly uses her sporting excellence to show that her dietary choice is a healthy one. Her latest challenge was to try and break the record for the fastest time to complete seven marathons in seven days on seven different continents, all whilst dressed as a cow!
What is Faster than Usain Bolt?
Jamaica is known for sprinting - the country's success on the track has made it a superpower in athletics. But the island is looking to a different type of track for future medal success - the BMX cycle track! The small rural town of Oracabessa on the north coast of the island is home to the only BMX bike track in the English speaking Caribbean and the nation hopes it could be the start of big things. We've been to have a look.
Boxing Allowed
After more than three decades of boxing being a banned sport in Norway, fans are preparing to enjoy a first professional fight, since the ban has been lifted.
Sporting Witness
We look back to 1967 and Vietnam with the Australian football team who toured the country in the middle of the war
(Photo: Billy Clarke of Bradford City celebrates after his shot on goal deflected off John O'Shea of Sunderland into the net, putting Bradford in front during the FA Cup fifth round. Credit: Ian Horrocks/Sunderland AFC/Getty Images)