Main content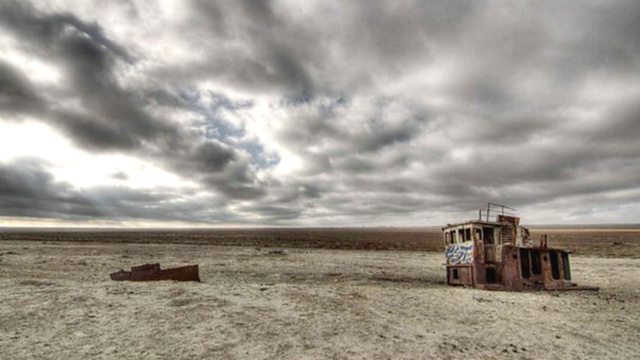 Gone - The Sea that Disappeared
Living in a toxic desert in Kazakhstan that was once the Aral Sea, an old fisherman remembers how it was 40 years ago.
Eighty-six year old Khojabay lives in Kazakhstan in the middle of a vast desert made of toxic dust and pesticides, once The Aral Sea.
Forty years ago his village was a seaside fishing port surrounded by freshwater lakes and barley fields. Then he would catch 400 kilos of fish in one go.
He scans the desert to see if the Sea is coming back. This is what the Kazakhstan government is promising people – former fishing communities trapped in the middle of the desert.
Twenty-six thousand square miles of sea is now called Aralkum or 'The Aral Sands' locally. When the Soviets started building dozens of dams and canals in the 1960s and deprived the Aral Sea of its two main tributaries – the rivers Amudarya and Syrdarya – the sea started shrinking.
The governments of Kazakhstan and Uzbekistan who shared the former sea are not able to restore it. They would need billions of dollars to revive the Aral and stop cotton irrigation. This simply will not happen.
As part of the BBC's Richer World Season, Rustam Qobil visits this desert and talks to people who have lost their sea, health and loved ones to this man-made disaster. He is 42 now. When Rustam was born in Uzbekistan 'We had our sea. Now we don't, and we will never have it again.'
On the Uzbekistan side of the sandpit there is another fisherman who stares into the same desert. His grandchildren simply think he is mad when he talks of the sea. His words defy all logic and reason.
Last on

BBC World Service
except News Internet
Broadcasts
BBC World Service

except West and Central Africa