Main content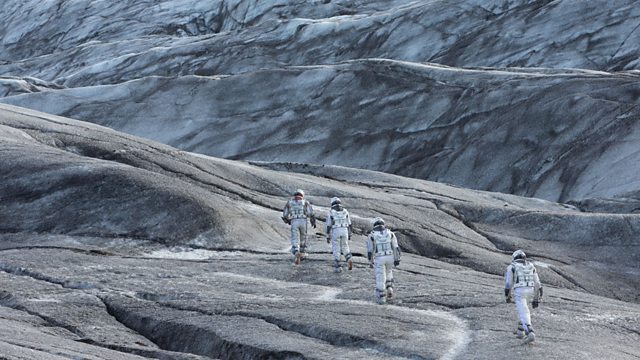 Oscar Winning Visual FX
Oscar winning visual FX; Fight-sensing cameras; Kickstarter & Citizen Cyberscience; FutureEverything: Haunted Machines
Interstellar won an Oscar for best visual effects. The company Double Negative took home the Oscar but much of the software whose expertise they relied on was provided by the FX specialists The Foundry. The Foundry's Simon Robinson joins Click to discuss how space can be made to seem wondrous and ordinary.
Fight-sensing Cameras
Fight-sensing cameras aim to cut crime on Britain's streets. Researchers have been exploring how CCTV footage and smart cameras can be put to smarter use in capturing scenes of violence and directing police officers to those scenes in near-real time. Gareth Mitchell hears from the researchers at the start of the project.
Kickstarter and Citizen Cyberscience
What do antimatter, beer and rescue dogs have in common? They are all project topics at the first Science and Kickstarter Hackathon which is being held in New York City over the coming days. This collaboration between Citizen Cyberscience and Kickstarter aims to help sixteen science projects get off the ground. Click hears from Francois Grey of the Citizen Cyberscience Centre and Aurora Thornhill of Kickstarter.
FutureEverything: Haunted Machines
The FutureEverything digital festival in Manchester, in the north of England, this year reflects on the nature of haunted machines as a key theme. The continued proliferation of connected devices and the narratives driving them forward have run alongside stories of surveillance, hacking and black boxes. At FutureEverything, writers, designers and artists are beginning to refer more and more to a new time of hauntings and the supernatural in respect of this new technological climate. Click talks to the co-curator Natalie Kane.
(Photo credit: used with the kind permission of Warner Bros)
Chapters
Oscar Winning Visual FX

The special FX secrets behind the Oscar winning Interstellar

Duration: 06:51

Fight-sensing Cameras

Smarter crowd control with the new developments in CCTV footage

Duration: 05:30

Kickstarter & Citizen Cyberscience

A first-of-its-kind Hackathon for Kickstarter and Citizen Cyberscience

Duration: 07:31

FutureEverything: Haunted Machines

Tech and our relationships with the ghostly networks and machines

Duration: 04:19