Main content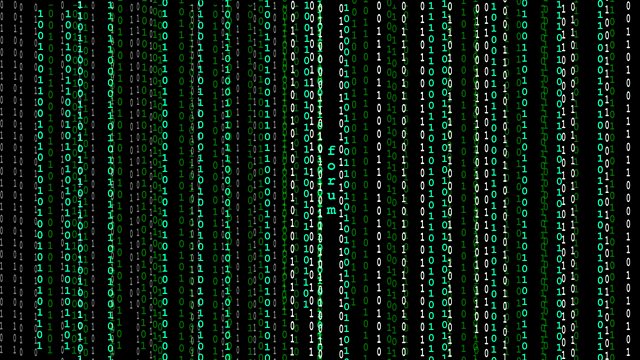 Codes and ciphers
The future of ciphers, digital currencies and online banking. With cryptographer Maire O'Neill, philosopher Luciano Floridi and financial journalist Paul Vigna.
Is your mobile phone 'leaking' data even though the encryption tools it uses are mathematically perfect? Will quantum computing spell the end of online payments? And could cryptocurrencies, such as Bitcoin, be the banking revolution which the developing world needs? Bridget Kendall talks to cryptographer Maire O'Neill, philosopher Luciano Floridi and financial journalist Paul Vigna.
(Photo: Digital binary code background. Credit: Shan Pillay)
Chapters
Máire O'Neill

The ever-changing world of cryptography

Duration: 10:08

Luciano Floridi

Are virtual worlds more real than we assume?

Duration: 30:36

60 Second Idea

The world's 10 greatest texts

Duration: 04:47

Paul Vigna

The promise of Bitcoin

Duration: 12:30

Máire O'Neill

Professor Máire O'Neill is Director of Research for Data Security Systems at Queen's University Belfast. She has received numerous awards for her research which include British Female Inventor of the Year 2007 and the Women's Engineering Society prize at the 2006 IET Young Woman Engineer of the Year event. She has invented a high-speed silicon security chip that is used in more than 100 million TV set-top boxes, for this she has received the coveted Royal Academy of Engineering Silver Medal for 2014.

Luciano Floridi

Luciano Floridi is the Oxford Internet Institute's Professor of Philosophy and Ethics of Information. Outside Oxford, he is Distinguished Scholar in Residence of the Department of Economics, American University, Washington D.C. and a member of Google's Advisory Council on the Right to be Forgotten.  His long-term project is a tetralogy on the foundations of the philosophy of information. His most recent books is The Fourth Revolution: How the infosphere is reshaping human reality.

Paul Vigna

Paul Vigna writes for the Wall Street Journal's MoneyBeat blog, covering the equities market and dipping into economics, technology, and finance. He is also the host of the MoneyBeat daily web show on wsj.com, and appears regularly on television, radio, and podcasts. He is co-author, along with Michael Casey, of a new book on Bitcoin, The Age of Cryptocurrency.

Sixty Second Idea to Change the World

Paul Vigna argues that the most important technology in history has been the written word, and education is the most important social good there is. Therefore, he suggests that every operating system in the world, every PC, laptop, tablet, smartphone or whatever, should have a program included with it, which he calls TenBlock, 10 of the world's most important texts. And because it's all text, the app wouldn't take up much space and would bring some of the most important thoughts in human history directly to people.