Main content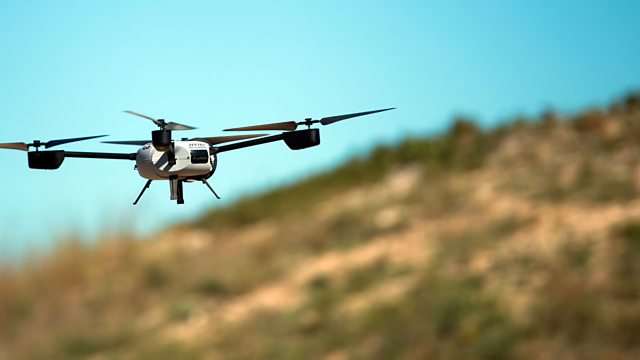 Drones for Good
Drones for Good Part 1; Drones for Good Part 2; Credit Cards Anonymous; Virtual Bell Ringing
It is well know that drones, unmanned aerial vehicles, have been put to use by various military bodies around the world as silent harbingers of death and destruction. But they might also be put to use for good causes. Such is the thinking behind Drones for Good, a competition launched by the UAE. The winner of the one million dollar award is announced at the end of the week. Click hears from Lauren Fletcher about one of the shortlisted projects which aims to use drones to accurately drop seeds to aid reforestation.
Drones for Good Part 2
Another project uses a safe drone that is enmeshed in a case so that it can bump into people and objects without doing damage. Click hears from Patrick Thevoz about how the drone might be usefully deployed in search and rescue operations.
Credit Cards Anonymous
Researchers from MIT in Boston have shown that it only takes a few bits of information - where you bought bread on Monday for example, or where you saw a film on Tuesday - to re-identify you within an anonymized set of credit card metadata. In a new report, drawing on data from more than one million people, Yves-Alexandre de Montjoye found that only four of these time and place observations were needed to uniquely identify 90% of individuals. He joins Click to discuss the research and credit card protection.
Virtual Bell Ringing
Although the organ may be the musical sound that most people connect with the Christian church, in fact there is far older and more deeply rooted sound that connotes Christian worship. Sylvia Smith visits Christchurch on the Isle of Dogs in London to find out how new technology is allowing novice bell ringers to learn more quickly and efficiently without upsetting the church neighbours. And how virtual ringers can take the place of those kept away from bell ringing practice.
(Photo caption: A Novadem NX 110 drone flies during a presentation at a firefighter rescue centre in Les Pennes-Mirabeau, southern France. Credit: Bertrand Langlois/AFP/Getty Images)
Last on
Chapters
Drones for Good Part 1

Lauren Fletcher discusses using drones to precisely drop seeds to aid reforestation

Duration: 07:45

Drones for Good Part 2

Patrick Thevoz talks about rescue drones that can bump into people without hurting them

Duration: 05:00

Credit Cards Anonymous

A report on the risks of identifying people through credit card transactions

Duration: 06:18

Virtual Bell Ringing

Sylvia Smith reports on the technology allowing for virtual bell ringing

Duration: 05:34

Broadcasts