Main content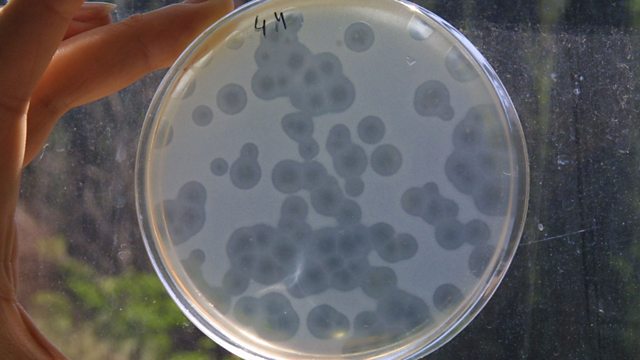 Viruses and Chronic Gut Disease
Viruses and chronic gut disease, New materials for solar cells, Ocean acidification and marine organisms, Year of Mud
Good bacteria are vital to our health we are learning, particularly in our digestive systems. But now researchers are turning their attention to smaller microbes – viruses, and the virome that is inside us. They've been investigating the microbes in the guts of people with inflammatory bowel conditions such as Crohn's disease and ulcerative colitis, and found huge changes in the populations of viruses.
Professor Skip Virgin of Washington University in St Louis talks about the significance of this finding.
New Materials for Solar Cells
New developments in materials mean that cheaper photovoltaic cells could be on the horizon, helping to make electricity generated by solar cells more available, particularly in the developing world. Jack Stewart discusses these materials with Professor Henry Snaith of Oxford University in the UK, one of the pioneers in solar panels made of materials called perovskites, and solar energy expert Bernie Bulkin, former Chair of the UK Office for Renewable Energy.
Ocean Acidification and Marine Organisms
If you've ever seen a boat in dry-dock, or really looked at anything that's been submerged in the sea, you will often see that it's covered in a layer of crust. It's a layer of organisms, known as the biofoul community. They stick to ships, making the surfaces rough, increasing drag, and destroying fuel economy. Dr Melody Clark of the British Antarctic Survey has been finding out what might happen to these animals as the climate changes, and the oceans become more acidic. The answer is there are winners and losers.
Year of Mud
Mud is something we don't often think about in a positive light. But the Geological Society of London has decided we should celebrate the stuff, and has deemed 2015 the Year of Mud. Professor David Manning, President of the Geological Society of London, explains why, in his view, mud is a marvellous material.
(Photo: The bacterium staphylococcus at the Eliava Institute of Bacteriophage, Microbiology and Virology in Tbilissi. Credit: Vano Shlamov/ AFP/Getty Images)
Chapters
Viruses and chronic gut disease

Viruses living in the gut may have a role in inflammatory bowel disease.

Duration: 05:56

New material for solar cells

Materials called perovskites could make cheaper and more efficient solar cells.

Duration: 09:13

Ocean acidification and marine organisms

Winners and losers in marine organisms as oceans become more acidic.

Duration: 06:13

Year of Mud

Why the Geological Society of London is celebrating mud in 2015.

Duration: 04:16